Shock Move Gives Populists a Chance at Government in Estonia
(Bloomberg) -- Estonia's ruling party unexpectedly opened the door for anti-immigrant populists to join another European Union government.
Despite finishing as runner-up in this month's elections, the Center Party is trying to build a majority by reaching out to the anti-establishment EKRE Monday, alongside its current coalition partner, the conservative Isamaa. The EU is already struggling to address gains made by euroskeptic nationalists across the world's largest trading bloc.
"It does fit with the picture across Europe of rising nationalist forces and a decline in support for Social Democrats," said Martin Molder, a researcher at the Tartu University's Johan Skytte Institute of Political Studies. "How Center resolves its internal tensions will be the key in these talks as many of its leaders and voters aren't very happy with the decision."
Nationalist politicians are gaining influence from Budapest to Rome, striking at the EU's migration policies and in many cases challenging the bloc's democratic norms. An EKRE official last year attacked a court verdict to register a Swedish same-sex married couple as spouses, saying he wanted judges' "heads to roll." It's also pushing to scrap same-sex partnerships altogether, while some party members have publicly used racial epithets.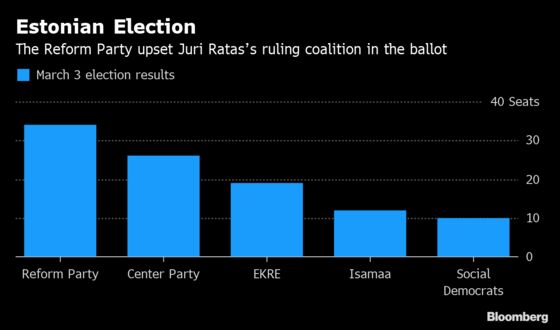 The coalition talks are playing out as Estonia grapples with the reputational hit from a $230-billion money-laundering scandal centered on the local unit of Danske Bank A/S, one of Europe's biggest dirty-money cases.
"Every government has to value the freedoms and the basic rights of our people," Prime Minister Juri Ratas, who leads Center, said in a statement, defending the decision to engage with EKRE. The government must "also offer safety to all Estonian residents and to strengthen the rule of law and democracy that underpin Estonia," he said.
Center, along with the election-winning Reform Party, had earlier pledged to shun EKRE, which came third in the ballot by railing against immigrants and claiming the EU increasingly resembles the Soviet Union and vowing to take back sovereignty from the bloc.
Center relies on support from Estonia's Russian speakers, who make up about a quarter of the 1.3 million population. Several of its leaders representing the minority oppose talking to EKRE. Ratas said negotiations will be difficult.
The three parties agreed at a brief meeting Tuesday the new coalition would support Estonia's EU and NATO membership, public broadcaster ERR cited Ratas as saying to reporters. Defense Minister Juri Luik, of Isamaa, considers differences between the parties to be too large to achieve a deal, ERR quoted him as saying in interview.
President Kersti Kaljulaid reiterated Monday that she'd extend the first offer to form a government to Reform. Center rejected a proposal last week for talks on a grand coalition from Reform, which said it would turn instead to Isamaa and the Social Democrats.
Isamaa said it accepted Center's invitation ahead of Reform's because it contained no "red lines." While the Social Democrats are ready for talks with Reform, the pair only control 44 of parliament's 101 seats. A Center-Isamaa-EKRE alliance would have 57.