Erdogan Warns Supporters Against 'Treason' to Ruling Party
(Bloomberg) -- Turkish President Recep Tayyip Erdogan warned party members not to commit "treason" against the ruling AK Party amid speculation that former allies are preparing a breakaway movement that could threaten his 16-year-rule.
Pro-government media have been speculating that ex-President Abdullah Gul, former Deputy Prime Minister Ali Babacan and onetime Prime Minister Ahmet Davutoglu -- all pushed out of government -- are pondering forming a new party after March local elections.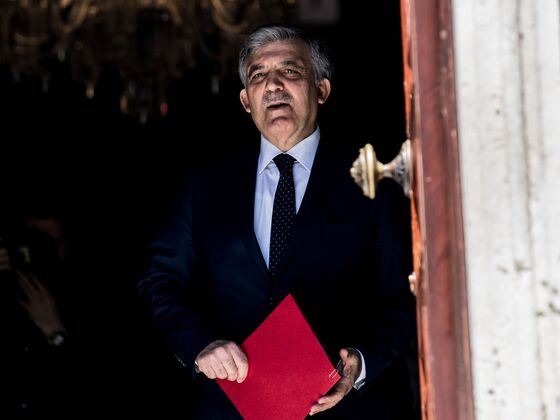 "One should not commit treason" by joining them, Erdogan told NTV television in an interview late Tuesday, responding to a question on the reports.
The possibility of a new political rival exacerbates the challenges that will test Erdogan's popularity in March 31 municipal elections, including a weakening economy and an opposition alliance buoyed by support from a pro-Kurdish party. Babacan -- a figure trusted by investors for his prudent and conservative policies -- is said to be preparing to head the new party with close backing from Gul, according to media reports.
Babacan couldn't be reached for comment.
Erdogan said any breakaway movement from the AKP is doomed to "failure."
"It is not possible to walk on the same path with those who've departed," he said.