Erdogan Warns EU of 'Blindness' as Greece Seeks Sanctions
(Bloomberg) -- Turkish President Recep Tayyip Erdogan warned the European Union to "get rid of its strategic blindness" as Greece pushed the bloc to target Turkey with tougher sanctions that could unleash a full-blown crisis in the eastern Mediterranean.
The moves mark the latest deterioration in relations between Turkey on the one hand and Greece and Cyprus on the other over Turkish energy exploration in waters claimed by both EU countries. Recent actions by Erdogan in relation to Turkish-occupied northern Cyprus have also fueled tensions.
The EU "should not allow itself to be used as a ram by the Greek-Cypriot side and Greece," Erdogan said in a pre-recorded video message for participants of a workshop on the eastern Mediterranean held in Antalya on Monday. The comments were released as EU foreign ministers in Brussels discussed relations with Turkey before the bloc's Dec. 10-11 summit, where Greece hopes to extract a commitment to step up penalties against Ankara.
Greece wants EU leaders on Thursday to give the bloc's foreign policy chief, Josep Borrell, "a clear mandate" to present targeted measures next month, including an arms embargo and the prohibition of financing of Turkish banks and companies by European institutions, according to a note circulated before the meeting and seen by Bloomberg News.
Such severe action has previously failed to garner the unanimous support of EU governments. Borrell said that Monday's meeting of the bloc's top diplomats showed a widespread view that "the situation is not a positive one," while declining to speculate about what the bloc's leaders will decide to do.
"We have not seen a fundamental change of direction in the Turkish behavior," Borrell told reporters afterward. "On the contrary, in several aspects the situation has worsened" and "all member states were very much aware of the need to assess carefully the situation with Turkey."
In February, the EU imposed asset freezes and travel bans on two employees of Turkish Petroleum Corp. in response to Turkey's natural-gas gas hunt off Cyprus. A Cypriot proposal to include Turkish entities and add individuals to that blacklist has been held up since June.
One option for EU leaders this week is to push forward the Cypriot proposal. Another is to flesh out possibilities for broader, economy-focused penalties against Turkey floated by Borrell in late August.
The government heads pledged on Oct. 1-2 to "take decisions as appropriate at the latest" in December. The vow was part of an agreement that unblocked EU sanctions against Belarus by winning over Cyprus, which had pressed the bloc to take a tougher stance against Turkey.
Ankara is at loggerheads with Greece and Cyprus over maritime borders in the Eastern Mediterranean. Competing claims to sovereignty over waters rich in hydrocarbon reserves led to a standoff between the Greek and Turkish navy earlier this year, while an agreement in principle to begin dialog has so far failed to materialize.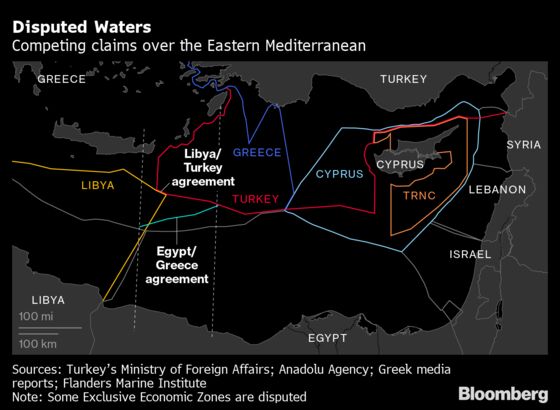 While siding with Greece and Cyprus, the EU is wary of an escalation of tensions with Turkey that would severely harm ties with an important trading partner and with a country upon which the bloc relies to stem Mideast migration.
Highlighting the stakes, Greece may this week demand that Germany cancel a multi-billion dollar deal to sell Turkey advanced attack submarines, arguing such a move risks shifting the balance of power in the entire Mediterranean.
"It was made clear that there must be a reaction against Turkey," Greek Foreign Minister Nikolaos Dendias said after the discussion in Brussels.
The quarrel has regional implications, as the deterioration of ties between Turkey and the EU threatens to undermine the already-slim prospects for a resolution of the Cyprus dispute, after almost 50 years of failed attempts to reunify the island.
Turkey has also been vying with France for influence in Libya, while Erdogan and French President Emmanuel Macron have repeatedly clashed in public over the treatment of Muslims and Islamism.
"We have clearly stated that we will not accept plans and maps that aim to confine our country to the Antalya coast," Erdogan said in his video message released Monday. "We have expressed to our interlocutors that we will not bow to threats and blackmail and that we will not allow imperialist expansionism."