Erdogan Invokes Ottoman Forebear in New Pledge for Syria Victory
(Bloomberg) -- Turkish President Recep Tayyip Erdogan is invoking a volatile burial site to highlight the military buildup along the border with Syria where he says Turkey's enemies will soon be crushed.
The Turkish army will prevail against adversaries in Syria with the same zeal it showed in previous deployments, Erdogan told his top military brass on Tuesday as they stood outside the tomb of medieval Ottoman forebear Suleyman Shah.
The future of the memorial, which was located inside Syria and then transfered closer to the Turkish border in 2015 following threats from Islamic State, will be "an important harbinger," Erdogan said as his voice blared off the speaker of the defense minister's mobile phone. Turkey has promised to restore the tomb to its original site.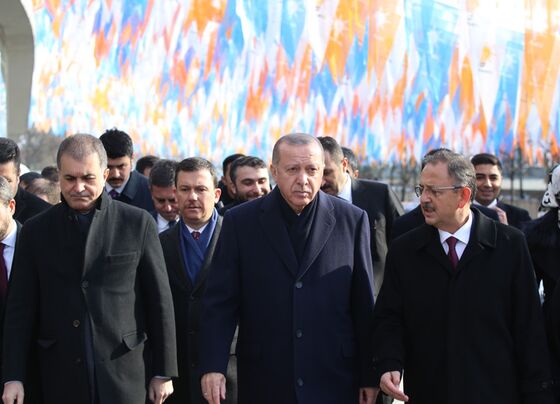 The president's televised call to military commanders on the border underscored his ambitions to keep swathes of Syrian land under Turkish control to repel Syrian Kurdish militants and jihadists. As Donald Trump ordered U.S. troops out of Syria, "the Turkish Armed Forces assumed a mission, a responsibility in the struggle against Islamic State and we will effectively carry it out in the coming days," Defense Minister Hulusi Akar said.
Under Akar's watch, military trucks have been hauling tanks, howitzers and armored personnel carriers to the border for weeks as Turkey's army prepares to escalate its involvement in Syria after capturing the northwestern towns of Jarablus from Islamic State and Afrin from Kurdish forces. Turkish forces have recently moved closer to the strategic town of Manbij, where they sought to oust U.S.-backed Kurdish fighters.
"I believe, from now on, the process of Suleyman Shah will be far more important," Erdogan told the commanders. "I believe your faith will bring many more victories. You've walked to the martyrdom and you are walking again. Allah will give us victory."