Erdogan Vows to Strengthen Rule of Law in Turkey to Appease EU
(Bloomberg) -- Turkish President Recep Tayyip Erdogan promised on Tuesday to improve his country's human rights record, ahead of a key European Union assessment of relations with Ankara.
Human rights violations have been a key obstacle to Turkey's request to join the bloc, which will hold its high-level assessment in Brussels later this month. Turkey will press the bloc to waive visa requirements for Turkish citizens and exchange information on foreign investments to try to allay EU concerns on security, money laundering and terrorist financing.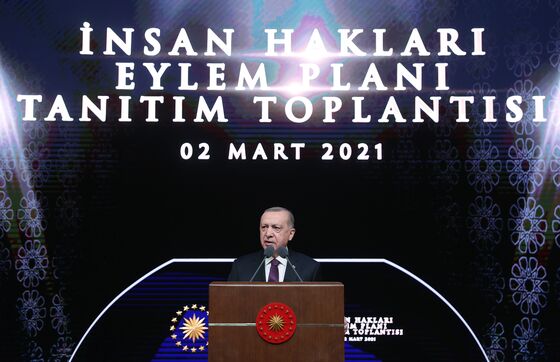 Erdogan, in a presentation to EU envoys and others at his palace in Ankara, didn't refer to the imprisonment of philanthropist and businessman Osman Kavala on charges of attempting to overthrow the government. The case is seen as a key test of Turkey's judicial independence and commitment to the rule of law, and the EU and U.S. have demanded Kavala's immediate release.
The government's objective is "to further strengthen the rule of law based on human rights," and improve the process of appeals to the country's top court, Erdogan said.
Below are highlights of Erdogan's proposals:
Revising political parties and election laws to increase democratic participation
Enhancing the effectiveness of human rights organizations
Revealing decisions by its ombudsman and human rights and equality institutions; establishing an independent human rights monitoring commission for penal institutions
Expediting trials
Lifting statute of limitations in probes of torture allegations
Revising regulations regarding the election and composition of the boards of directors of non-Muslim foundations.
Protecting personal data in line with EU standards
Ensuring all public and private sector employees and students from all religions are allowed to take off during their religious holidays