Turkey and Greece Trade Barbs on Visit Meant to Build Ties
(Bloomberg) -- A meeting to foster reconciliation between estranged neighbors went dramatically off-script on Thursday as the foreign ministers of Greece and Turkey argued live on television.
Rather than opening a new chapter in relations, the heated news conference reflected opposing positions on everything from energy exploration to minority rights and migration.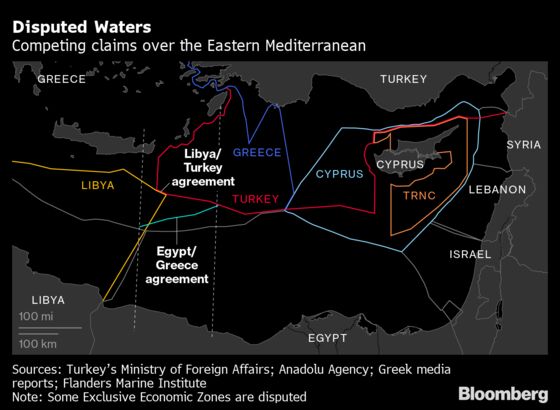 Things started off well as Greece's Nikolaos Dendias, in his first visit to Turkey in two years, met with President Recep Tayyip Erdogan and his Turkish counterpart Mevlut Cavusoglu. The two ministers agreed on the need to strengthen economic ties.
Appearing before the media, Cavusoglu said the two nations agreed to meet in Geneva later this month for exploratory talks on reunifying the divided island of Cyprus, and would keep talking to solve their disputes. He even floated reciprocal presidential visits if there was progress.
Cavusoglou referred to a Turkish minority in Greece with Dendias stating that the only minority that Greece recognizes - according to the Lausanne treaty - is the Muslim one.
The Greek minister also accused Turkey of violating Greece's sovereign rights, international law and the Convention on the Law of the Sea in its search for energy assets in the Aegean and Eastern Mediterranean, saying that sanctions are still on European Union's table if need be.
Turkey "has made 400 overflights over Greek territory, Mevlut, over Greek land, I'm not talking about the sea," he said. He also criticized Turkey's conversion of Istanbul's Hagia Sophia, formerly a Byzantine cathedral and a UNESCO World Heritage site which carries a special significance for Greeks, into a mosque last summer.
A clearly upset Cavusoglu didn't hold back and defended Turkey's rights to protect its own interests in the region.
"If you come here and accuse us even after we agreed on maintaining discussions on these topics, then I have to give an answer," he said. "We have to make a decision whether we're going to keep quarreling like this or continue talking," Cavusoglu said. "I think, we should maintain the dialog."
The two countries were expected to take steps to ease long-held frictions exacerbated by Turkish energy exploration and maritime claims in contested waters that have drawn in the European Union, and make progress toward a resolution for Cyprus. Greece is aiming for a bizonal Cypriot federation, while Turkey says the only solution is partitioning Cyprus into two states.
The island was divided in 1974 after Turkey captured the northern third with the declared purpose of protecting a Turkish-speaking minority following an Athens-backed coup by supporters of union with Greece.
The Turkish-speaking minority's self-proclaimed state in the north, recognized only by Ankara, also claims rights to any energy resources discovered off its coast.