Turkey's Erdogan Seeks Final Piece in Power Puzzle 
(Bloomberg) -- The loyalist picked by Turkey's government to run the town of Suruc knew what was needed to lift its spirits -- a celebration of the pomegranate.
Arriving just over a year after a devastating suicide bombing, the official drafted plans for a festival surrounding the fruit, a mainstay of the economy. The event debuted in 2017 and this year's gala was meticulously planned. Roads were repaved, banners hung, dancers and musicians booked.
One thing though was missing, said Rojda Binici, a local politician: any meaningful sense of the town's predominantly Kurdish heritage.
Just 15 kilometers (9 miles) from Turkey's southern border with Syria, Suruc and its inhabitants are on the front lines of President Recep Tayyip Erdogan's campaign to curb Kurdish aspirations that he sees as posing a growing menace for Turkey's sovereignty.
"They were all cosmetic ideas," Binici said of the Oct. 22 festivities. The entertainment drew on mainstream Turkish traditions, a decision in keeping with diktats restricting the play-list of a local Kurdish wedding band and renaming parks and cultural centers opened when her pro-Kurdish party was in power, she said. "They've fired many of the 200 workers we'd hired."
Suruc is one of about 100 municipalities in Turkey's Kurdish-majority region where since 2015 elected mayors have been ousted after accusations they supported the insurgent Kurdistan Workers' Party, or PKK. "Trustees" took over, while hundreds of Kurdish politicians were jailed on terrorism charges and curfews imposed. The military has attacked PKK bases in Iraq and is again threatening war with an affiliated force that's carved out effective self-rule in northeastern Syria.
The clampdown plays well with the nationalist voters that Erdogan's ruling AK Party and its ally need to overcome a nosediving economy and keep control of the big cities in March elections. Victory then would tighten their hold on power for years, with the next major poll due in 2023. The price is ever deeper alienation among Kurds, estimated to make up nearly a fifth of Turkey's population.
"We will definitely win the municipality election but I don't know whether they will allow us to work," Binici said of her HDP party's chances in Suruc, where a giant Turkish flag dominates the high blast walls surrounding the administrative headquarters.
Erdogan's made his intentions clear. "If anyone again nominates someone involved in terrorism as a candidate for mayor's office they should know that we would follow our principle" of replacing them, he said in October.
The HDP denies it's influenced by the PKK, designated a terrorist organization by the U.S. and European Union as well as Turkey. It blames the group's armed rebellion on a history of repressive policies toward Kurds.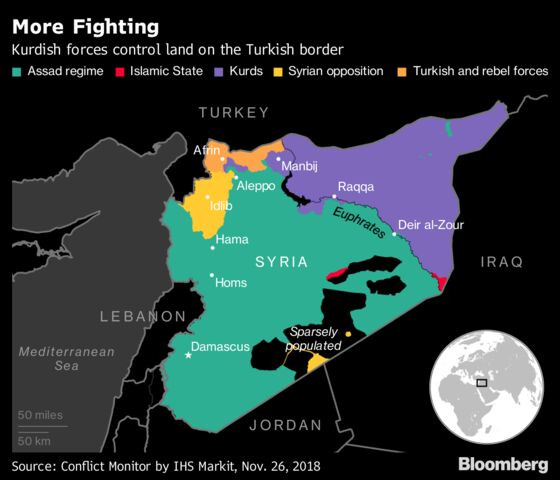 In early 2015, then-Prime Minister Erdogan and the PKK had appeared close to a historic agreement to end a decades-old conflict. But talks collapsed as the two sides disagreed over the withdrawal of rebel forces to Iraq, and a HDP surge in June's parliamentary election helped strip the AK Party of its majority. Violence intensified with almost 3,000 people killed in the next two years, according to one count.
On July 20, 2015, a suicide bombing killed dozens of young pro-Kurdish activists in Suruc. Evidence strongly suggested the attack was carried out by Islamic State, recently defeated by Kurdish fighters in the Syrian town of Kobani. But in this and two subsequent bombings that also primarily killed Kurds, Turkish leaders speculated that the PKK could have played a role. Polls suggested a sizable number of Turks believed them.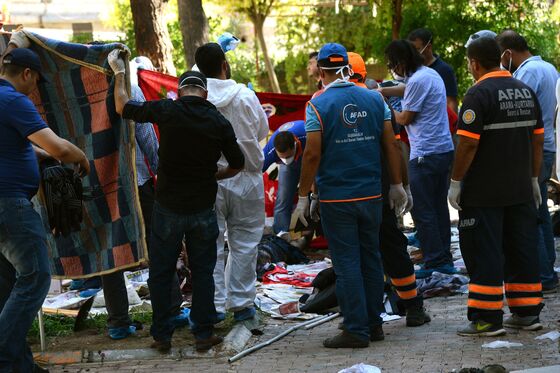 At a rerun parliamentary vote that November, the HDP fell back and the AK Party restored its plurality. The purge of Kurdish officials intensified, with the government accusing them of channeling municipality funds to the PKK and deploying excavators to help the militants dig trenches in months-long street battles.
The HDP doesn't have a lock on Kurdish votes. Mehmet Aksu, a 37-year-old Suruc farmer, said he's proud of the Turkish state and will support the AK party in March despite being irritated by the "depressing" fortifications around the mayoral compound.
"Each time I pass by, I feel as if I am living in another country," Aksu said. He was willing to give Erdogan's governing party more time to deliver the extra funding for infrastructure and healthcare the region had been promised.
It's hard to escape the town's links to the pomegranate -- a giant concrete representation of the fruit cradled in a hand dominates a busy intersection -- and at this October's festival, current trustee Tarik Acikgoz chatted about the need for "unity and solidarity."
But when it comes to Turkey's Kurds, it's divisions that are often more to the fore.
A group of HDP lawmakers has been on hunger strike for more than a month to protest the government's bar on them meeting imprisoned PKK leader Abdullah Ocalan.
And on Monday, Erdogan drew a line under past efforts to address longstanding grievances. "Don't expect a new peace process, that business is over," he said in a speech in the central Anatolian city of Konya.