Erdogan Says Turkey Under Economic Attack: Campaign Trail Update
(Bloomberg) -- With Turkey's elections just days away, President Recep Tayyip Erdogan said late Tuesday that foreign adversaries are waging economic warfare on the country and positioned himself as the only person who can shield the nation from such attacks.
Speaking to businessmen at a dinner meeting in the southern province of Adana, Erdogan renewed his verbal assault on financial institutions and high interest rates, saying they're sucking the life out of Turkey's businesses, according to state news agency Anadolu.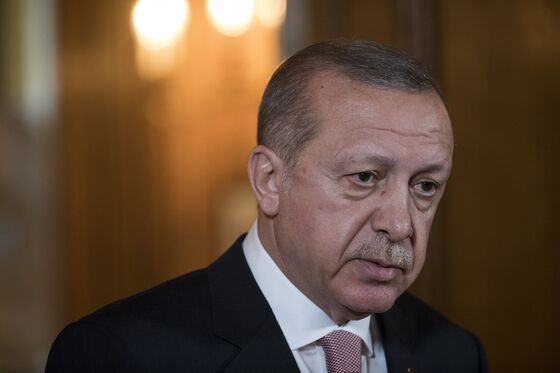 Erdogan's aversion to high interest rates and what he considers to be excessive profit-taking by the banking industry is no secret. But investors were still caught by surprise last month when he told Bloomberg that he would seek to implement his unorthodox economic theories and increase his influence over monetary policy when he renews his mandate.
The lira has gone into free fall as a result, but Erdogan has dismissed it as a concern and repeatedly called on citizens to exchange their dollars for liras to boost the national currency. More than half of the deposits in Turkey's banking system are in dollars and euros, as Turks seek to shield themselves from runaway inflation and rapid lira depreciation.
"I say it very openly. Things like foreign exchange rates don't determine our future," Erdogan said. "We're going to determine our own future which is why I say, if you still have FX stuffed under your pillow, bring it to the market."
Below are some of the highlights from Erdogan's speech and his program for later today:
"I call this a national mobilization. Is someone waging economic warfare against us? We need to do what's necessary to those waging an economic warfare against us"
Credit rating agencies such as "Moody's or Standard & Poor's don't matter for us. All of them make political decisions and make announcements with instructions taken from elsewhere"
"You will see how we deal with interest rates and other things once you give me the authority. We have to take steps to lower interest rates if we want to empower investors"
"[They say] banks need profits too. OK. But don't foreign banks profit, too? Japan has negative interest rates. When you come to the U.S., it's at one to two percent, or three percent maximum. What's up with our banks when their banks operate under these conditions? My friends, we're going to change this. There is no question about it"
"Some say, 'Mr. President, don't say such things before the elections" but "we will say whatever the truth is"
Erdogan is scheduled to hold rallies later in the southeastern provinces of Sanliurfa and Mardin, predominantly Kurdish areas where his AK Party's main rival is the pro-Kurdish HDP
Muharrem Ince, Erdogan's biggest contender according to polls, has complained to mainstream media about slanted and uneven coverage.
A former physics teacher and the main opposition CHP's candidate for president, Ince has surprised many with his ability to draw crowds and steer the national debate. But it's unclear whether he's actually being seen very much by voters in a country where the main source of news is TV.
"You'll be the winners after this election," Ince told reporters in a scrum broadcast live by CNN-Turk after the channel, like others, didn't broadcast his earlier press conference. "You'll be free. You'll be able to do your jobs freely when I win."
Ince will hold two rallies in Corlu and Mersin, in Turkey's northwest and south, respectively.
Turks living abroad have never been so keen to vote, according to the most recent data compiled by the High Elections Board YSK as of Wednesday. That might be good news for Erdogan.
The highest turnout rates were in Germany, Belgium, France and the Netherlands -- European countries that host millions of Turks who are predominantly pro-Erdogan.
Out of a total of 3.1 million voters registered abroad, 1.5 million have already cast their ballots -- the highest participation rate on record, according to the YSK.
The board's chairman has also announced that at least one Turkish expat has been detained on allegations that she may have voted more than once. The detention came after Turkish social media users began Tuesday sharing photos of the person in question casting ballots at two separate locations.