Prince Attends Summit as Erdogan Cries Murder: Khashoggi Update
(Bloomberg) -- Turkish President Recep Tayyip Erdogan has rejected Riyadh's account of the killing of Saudi journalist Jamal Khashoggi in Istanbul, saying the operation was meticulously planned and demanding the culprits be held to account. The Saudis have promised to punish the perpetrators, but political pressure shows little sign of easing and the controversy clouded the first day of a major investment conference in Riyadh. Here are some of the latest developments, updated throughout the day.
Time stamps are local time in Turkey.
MBS Leaves Summit Without Making Any Remarks (5:38 p.m.)
Saudi Arabia's Prince Mohammed made a public appearance at the investment event in Riyadh with King Abdullah of Jordan. He was greeted with applause when he entered the main hall, as dozens lifted their smart phones to grab a photo of him. He left without making any remarks.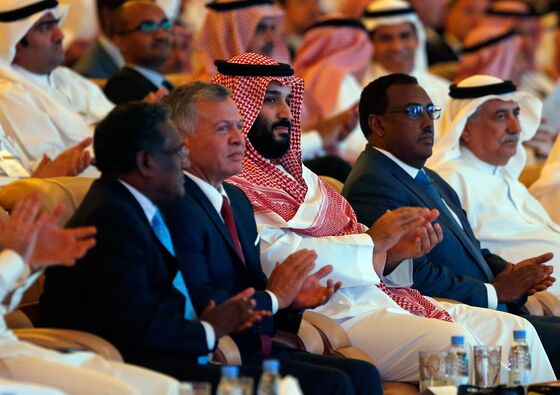 Leaders Quick to Condemn, Slow to Cancel Arms Deals (5:15 p.m.)
Spanish lawmakers have rejected a proposal to ask the government to stop selling weapons to Saudi Arabia, Cadena SER radio station reported. The decision comes as Canada's Justin Trudeau says it will be very difficult and costly for his country to cancel a military contract with the kingdom, even as he condemned Khashoggi's killing. It's a dilemma President Donald Trump has wrestled with since soon after the Washington Post columnist first disappeared on Oct. 2. Senators from both parties have called for a review of arms sales in light of the killing but losing those contracts could cost be costly for U.S. companies and workers. Trump says Russia and China would pick up the deals instead.
Saudi Stocks End Lower After Tumultuous Day (4:59 p.m.)
Saudi stocks initially reacted positively to Erdogan's speech. The Turkish president had vowed to disclose what had happened to Khashoggi in "all its nakedness." While he rejected the Saudi explanation that the journalist died when a discussion at the Istanbul consulate turned into an altercation, he refrained from implicating King Salman or breaking off ties with Saudi Arabia. The index flipped back into negative territory toward the end of trading.
Saudi Crown Prince Makes Appearance at Summit (4:45 p.m.)
The crown prince, known as MbS has made an appearance at the Future Investment Summit, hours after Erdogan said Khashoggi's killing was premeditated. With so many executives dropping out over the controversy, organizers had taken down and later updated their agenda and some were wondering whether the 33-year-old de facto ruler of the kingdom would show up this time. Saudi Arabia has sought to salvage the summit by parading some $50 billion in deals.
Saudi King, Crown Prince Met Khashoggi's Family (4:11 p.m.)
King Salman and Crown Prince Mohammed have met Jamal Khashoggi's son, Salah, and Sahl Khashoggi, who the state-owned Arabiya network identified as the journalist's brother, to express their condolences over his death.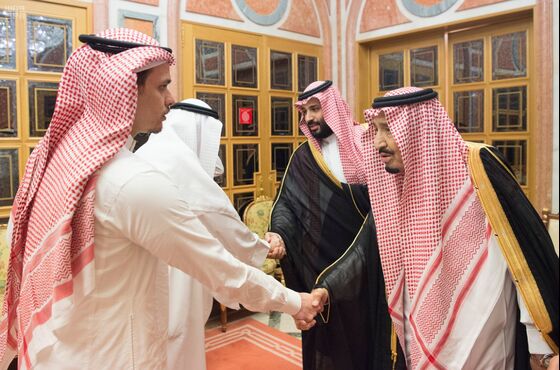 Salvaging the Riyadh Investment Summit (4:18 p.m.)
Erdogan's comments coincided with the first day of Saudi Arabia's flagship Future Investment Initiative in Riyadh. Last year's event was used to unveil plans for a $500 billion futuristic city called Neom. Participants lined up to take selfies with Crown Prince Mohammed bin Salman. This year, global executives and officials pulled out of the three-day conference in droves over the Khashoggi controversy and the mood was more subdued. But Saudi Arabia has been keen to show it's business as usual. It paraded about $50 billion worth of deals though it wasn't clear how many were new. Among the fresh commitments? Commodities trading house Trafigura Group signed a venture to develop a smelter and refining complex.
Saudi Arabia Assuages Worries About Oil Supplies (3:53 p.m.)
Saudi Arabia has gone to some lengths to assuage concerns that it could use its oil wealth for political leverage as it faces international pressure to punish those responsible for Khashoggi's death. Oil traded at its lowest level in more than a month after Saudi Energy Minister Khalid Al-Falih said that the world's biggest oil exporter will meet any shortfall resulting from Iranian sanctions.
Canada Says "Very Difficult" to Cancel Arms Deal (3:39 p.m.)
A contract to sell Canadian-made armored vehicles to Saudi Arabia is "very difficult" to cancel and might end up costing the Canadian government C$1 billion ($760 million), Prime Minister Justin Trudeau says. "I do not want to leave Canadians holding a billion dollar bill because we're trying to move forward on doing the right thing, so we are navigating this very carefully and that's pretty much all I can say on that," Trudeau says in CBC radio interview. "It is unacceptable and unthinkable that someone could have murdered a journalist on foreign soil like this, that is something that the global community cannot stand for."
Siemens Said to Delay Signing $20 Billion Power Deal (3:20 p.m.)
Siemens AG Chief Executive Officer Joe Kaeser's decision to skip an investment conference in Saudi Arabia this week has delayed the signing of a power-plant contract that could ultimately be worth as much as $20 billion, according to people familiar with the matter.
Saudi Arabia Says to Take "Corrective Measures" (3:15 p.m.)
Saudi Arabia said its response will not be limited to holding the culprits accountable for the incident but will include "corrective measures." The official Saudi Press Agency gave no more details on what these measures would involve.