Saudi Arabia Is Erdogan's Biggest Global Move – and His Biggest Gamble
(Bloomberg) -- Turkish President Recep Tayyip Erdogan is making his biggest move on the global stage as he seeks to undercut Saudi Arabia's ambitious would-be king. It's also his biggest gamble.
Erdogan is very publicly pitting himself against 33-year-old Crown Prince Mohammed bin Salman, who has had no qualms about leveraging his own power. If he holds on through the furor over the killing of Saudi critic and Washington Post columnist Jamal Khashoggi, Prince Mohammed, known as MBS, could theoretically take and keep the Saudi throne for decades to come.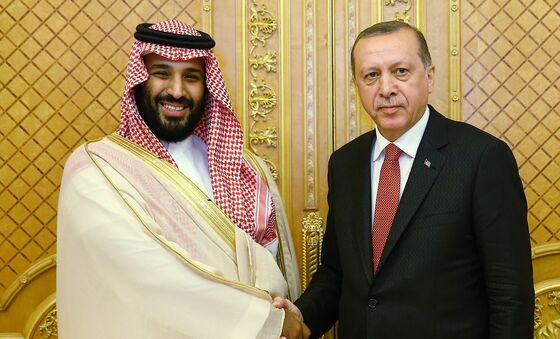 Turkish outrage since the Oct. 2 death of Khashoggi at the Saudi consulate in Istanbul is showing up in various ways: selective media leaks, public attacks and the prospect of embarrassment from the U.S., a key Saudi ally. The hope, according to a Turkish official familiar with the matter, was that confronted with the brutality of the crime, President Donald Trump would pressure the elderly Saudi king to pick a new heir.
There's one problem with that: Prince Mohammed may have amassed so much power that not even the king, his father, could unseat him. That's the assessment of some U.S. government insiders, according to an American official, who asked not to be named because of the sensitivity of the issue, and who said Erdogan's gamble could end with him making an enemy for life.
"How long can Erdogan keep this dangling?" said James M. Dorsey, a Middle East scholar at Nanyang Technological University in Singapore. "It seems to me that Erdogan risks losing the moral high ground given that his own record and that of his judiciary and law enforcement is questionable."
The consequences of a prolonged freeze between Turkey and Saudi Arabia, prompted by personal animosity between its leaders, would be profound not just for the countries themselves. The two biggest economies in the region are also the U.S.'s favored power brokers in the Muslim world.
Turkey's strategic importance is based on its $800 billion free-market economy, its secular democracy and its army, the second-largest in NATO after the U.S. The influence of Saudi Arabia's monarchy is based on its hold over the global oil market -- the kingdom is the world's biggest exporter -- and its guardianship of Islam's holiest sites.
Central Intelligence Agency Director Gina Haspel briefed Trump after her recent trip to Turkey during which she heard audio tapes of the interrogation and killing of Khashoggi, according to a Washington Post report verified by a Turkish official on condition of anonymity. But the White House gave few details of the encounter, only saying Haspel "briefed the President on their findings and her discussions."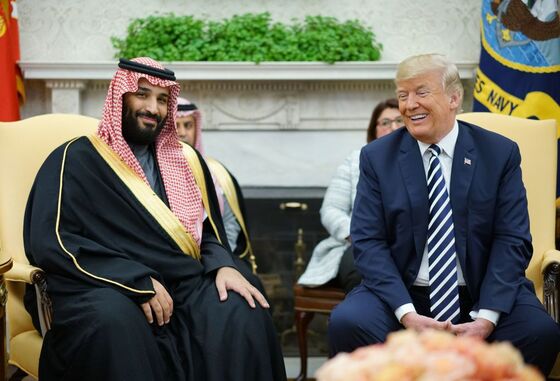 Trump's position is seen as critical because he was instrumental in endorsing Prince Mohammed as he leap-frogged other Saudi royals. In March 2017, Trump welcomed the prince to the Oval Office, effectively sidelining then-heir apparent Mohammed bin Nayef. Trump's first trip abroad two months later was to Saudi Arabia, by then emerging as the linchpin of a U.S. Middle East strategy to isolate Iran.
"The likelihood of Trump pressuring the king to rein in his son was always a risky bet, given the degree to which this administration has invested in the relationship," said Amanda Sloat, a senior fellow at the Brookings Institution in Washington and a former State Department official. "Thus far, Trump's reaction has been consistent with his handling of other policy challenges: punt to Congress."
Trump has gradually acknowledged that initial Saudi accounts of Khashoggi's demise -- first that it was carried out by "rogue killers," and later that it was a botched interrogation -- were untenable. This week, he deferred to Congress, where some senators are calling for sanctions and other penalties. Throughout, the president has rejected demands for arms sales to be canceled, saying that would hurt American workers and push the Saudis closer to Russia and China.
While the Trump administration has made Saudi its key ally in the Middle East, Erdogan may also be hoping to exploit the potential for improved ties with the U.S. after the release this month of Andrew Brunson, an American pastor who was jailed in Turkey for almost two years.
The hostility between Erdogan and elements of the ruling family in Riyadh dates back to the Arab revolts that began to convulse the region in late 2010. The upheaval propelled formerly oppressed Islamist movements to power, including some which shared heritage with Erdogan's ruling party, to the dismay of the Arab world's absolute monarchies that spied an existential threat.
But Prince Mohammed's ascent marked a dramatic deterioration in relations. As he amassed power, Saudi Arabia intensified its offensive against Islamists and targeted Turkish ally Qatar.
Turkey's relations with King Salman and bin Nayef survived, with the latter visiting Ankara in the aftermath of the failed 2016 coup against Erdogan and awarded the highest Turkish state honor. But no such accolades have been offered for Prince Mohammed, whom Turkish officials and aides to Erdogan are now blaming for Khashoggi's murder.
Some Turkish officials have publicly linked MBS to Khashoggi's death. While Turkey has no interest in regime change in Riyadh, if the investigation leads to Prince Mohammed's doorstep, "then that's his problem," said one aide, who asked to remain anonymous given the sensitivity of the issue.