Erdogan Rebuffs Trump Sanctions Vow on Detained U.S. Pastor
(Bloomberg) -- Turkish President Recep Tayyip Erdogan said his country won't buckle under U.S. President Donald Trump's threat to impose "large sanctions" if an American pastor detained in Turkey isn't released, Haberturk newspaper reported.
"You can't make Turkey step back with sanctions," Erdogan was cited as telling reporters on his trip to Johannesburg for a BRICS Summit. "If the U.S. does not change its stance, it should not forget that it will lose a strong and sincere partner."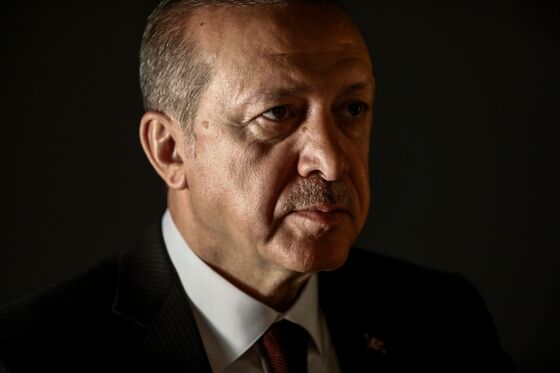 The evangelical pastor, Andrew Brunson, was arrested on charges of involvement in the coup attempt against Erdogan's government in 2016. His two-year detention has become the latest flashpoint in a crisis brewing between the NATO allies, and now threatens to deal another blow to Turkey's already-fragile economy.
Trump said in a July 26 tweet that Brunson is "suffering greatly," and that Turkey will face large sanctions if he is not released. In an interview that aired on Fox News' "Sunday Morning Futures," Vice President Mike Pence said the decision by a Turkish court on July 25 to release Brunson to house arrest is welcome, but that he must be allowed to return home.
"Transferring Pastor Andrew Brunson to home arrest is just not good enough, and the United States of America is prepared to bring sanctions against Turkey until Pastor Andrew Brunson is free," Pence said.
The U.S. is also investigating a Turkish state-run lender on suspicion it violated an embargo against Iran and has threatened to sanction Turkey for purchasing an S-400 missile defense system from Russia. U.S. officials say Brunson's detention is part of the Turkish government's "hostage diplomacy," but Turkish authorities have insisted the matter is for the nation's courts.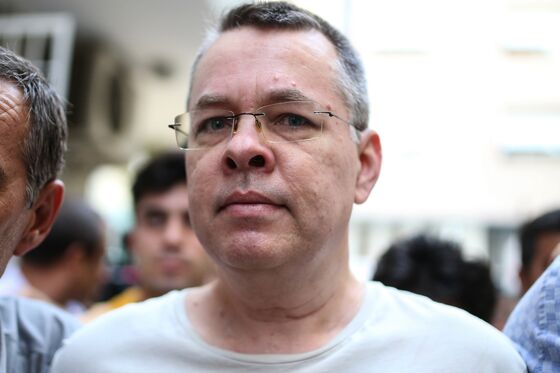 Brunson was never a subject for negotiation, Erdogan said, referring to reports last week of a deal to free the pastor in exchange for a Turkish citizen imprisoned in Israel on terrorism charges, according to the Haberturk report.
The Turkish lira has shed more than a fifth of its value this year against the dollar. With one of the widest current-account deficits as percentage of output among emerging markets, the economy remains particularly exposed to shifts in investor sentiment and any slowdown in capital flows.
"Instead of respecting the ruling they are making this a matter of sanctioning Turkey," Erdogan said, according to Haberturk. Turkey is not tied "at the hip to America," he added. "Didn't they impose sanctions on Iran? What happened, did Iran go bankrupt?"
The tensions between the two countries have prompted U.S. lawmakers to call for a halt in F-35 jets sales to Turkey, even though several key parts of the fighter are made there. Erdogan said Turkey would take the matter to international arbitration courts if the U.S. did not deliver them, according to Haberturk.
"It should not be forgotten that we don't live in a world without alternatives," Erdogan was cited as saying.