Merkel Reopens to Erdogan as Trump Squeezes Turkey's Economy
(Bloomberg) -- Chancellor Angela Merkel is letting Turkey's leader in from the cold, a year after he accused Germans of using Nazi methods.
Hemmed in by U.S. pressure and an economic crisis, President Recep Tayyip Erdogan is seeking to repair relations with the leader he views as the key to the European Union. Merkel, who held out the prospect of increased economic cooperation, receives him on Friday for talks and a news conference in Berlin, followed by the honor of a state dinner hosted by Germany's president.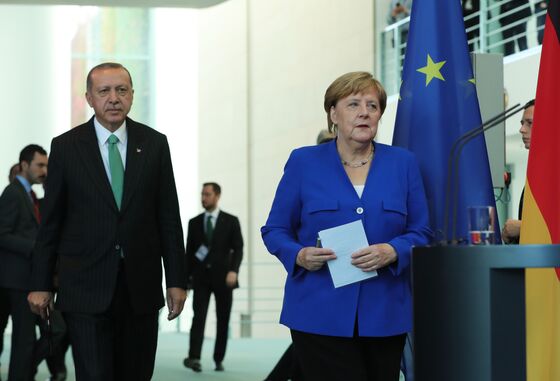 It's a turnaround from Turkish-EU hostility over the past year and a contrast to Erdogan's brief encounter in New York with Donald Trump, a NATO ally he has accused of waging "economic warfare" against Turkey. Erdogan's state visit is also the latest sign of the global realignment under way as the U.S. president's unorthodox diplomacy spurs countries to set aside clashes and band together.
"My interest is to have a stable Turkey," Merkel said late Thursday at a town-hall event in Augsburg, Germany. "And when there are differences in political systems that deserve to be criticized, there is criticism. I will certainly do that."
Given the grievances and demands on both sides, even small steps may count as progress. While ruling out direct aid, Merkel has voiced concern about avoiding a Turkish economic meltdown.
"I don't mean providing economic aid," she said Thursday. "But we have to cooperate economically and we'll surely reach some agreements on that."
Like the U.S. and other nations, Germany is demanding the release of imprisoned nationals, five of whom it says are being held for political reasons. Erdogan's lifting of the state of emergency doesn't go far enough in restoring democratic institutions, said a Foreign Ministry official in Berlin, asking not to be identified under government protocol.
Erdogan called on Germany to crack down on opponents he views as terrorists and on Europe to take on more responsibility for Syrian refugees. "Let us concentrate on mutual interests, common challenges and common threats," he said in an an op-ed in the Frankfurter Allgemeine Zeitung newspaper.
Arriving in Berlin with demands is a hard sell in Germany, where outrage at Erdogan's concentration of power and erosion of democratic institutions is widespread across the political spectrum.
Several German opposition leaders say they'll boycott the state banquet with Federal President Frank-Walter Steinmeier on Friday. Merkel also won't attend, but chancellery officials say that isn't necessarily required because she'll have enough time with Erdogan, including breakfast at the chancellery on Saturday.
A year after Erdogan compounded tensions with Nazi references against several European countries including Germany, he's shifting ground in the throes of an economic crisis that's sent the Turkish lira down by almost 40 percent this year and has the government seeking ways to stabilize banks.
"Turkey wants to see Germany on its side as it tries to rebuild its relationship with the U.S. and puts its economy back on track," said Ozgur Unluhisarcikli, head of the German Marshall Fund of the United States office in Ankara.
Shared regional interests and the presence of almost 7,000 German businesses in Turkey have helped avoid a breakdown in relations. Germany welcomed a deal between Erdogan and Russian President Vladimir Putin that forestalled an offensive in Syria's last rebel-held region of Idlib, which could have triggered a humanitarian catastrophe and a potentially new wave of refugees.
Merkel also depends on Erdogan to uphold an accord that pledged as much as 6 billion euros ($7 billion) in EU financial aid in return for Turkey housing Syrian refugees. She says it's helped halt a key channel for the more than 1 million refugees who came to Europe since 2015, mostly to Germany.
Erdogan has an automatic opening in Germany, which is home to some 2.8 million residents of Turkish descent, the country's biggest minority. He'll attend a mosque opening in Cologne on Saturday.
Yet immediate breakthroughs on key demands -- visa waivers for Turks, expanding the EU-Turkish customs union and reviving EU membership talks -- are unlikely.
"I would like to see a stable Turkey, but they have problems of their own making," Deputy Foreign Minister Michael Roth, a Social Democrat, said on ZDF television. "If Turkey follows a path toward rule of law and democracy, then I have the impression that many German companies will be ready to invest more again."