Erdogan Leaves Europe Guessing on Syrian Refugees, Again
(Bloomberg) -- On the shores of the Turkish coast, thousands of refugees are wading through the cold waters of the Mediterranean Sea to board inflatable dinghies bound for Europe. More still are preparing to cross borders on foot and by bus.
Whether new or old, the images that flooded Turkish state-run news outlets on Friday are what President Recep Tayyip Erdogan wants Europeans to believe could happen -- if he allows it to.
After tensions soared in Syria late Thursday with the killing of at least 33 Turkish soldiers in the northern province of Idlib by Russian-backed Syrian forces, Erdogan pulled out the one card he has left to play in a bid to get support from Europe: he threatened to unleash a wave of migrants as big as the one that upended European politics in 2015, and is leaving his allies guessing about how serious he is.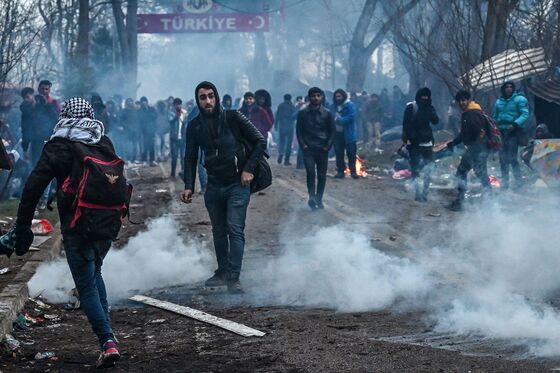 European Union chief diplomat Josep Borrell was at pains to stress he had received reassurances from Foreign Minister Mevlut Cavusoglu on Friday that Turkey "remains committed" to the 2016 refugee deal. But Erdogan's spokesman, Fahrettin Altun, implied the opposite moments earlier by saying that Ankara would need to "loosen" its stance on refugees if Idlib falls. "Turkey no longer has the possibility to provide resources for and help these people."
With Italy gripped by a coronavirus outbreak and populists across the region beating the drums about the potential for migrants to spread the disease, the very idea of more refugees seeking shelter in Europe is a powerful tool in the Turkish president's arsenal.
But the hype belies an important fact: although their ties may have frayed on numerous fronts over the past five years, Turkey and the EU ultimately need each other. As a result, Erdogan may be bluffing and the EU might seek to help him by making a faster payout of aid already pledged to his country.
German Chancellor Angela Merkel said in January that she'd support extra European refugee aid for Turkey on top of the existing 6 billion euros ($6.6 billion). She also said it's a matter for EU governments as a whole to consider.
The EU has room to do more under the current pledge because only around half of the 6 billion euros has been disbursed. The aid is part of a 2016 accord that stemmed Europe's biggest refugee wave since World War II by stopping Syrians displaced in Turkey from entering the bloc via Greece.
Erdogan has long been complaining that the money committed isn't actually being delivered -- and that Turkey's spent $40 billion on refugees so far. The country is the world's biggest host of migrants with more than 3.5 million Syrians on its soil. Erdogan has said hundreds of thousands of people are already on the move from Idlib toward Turkey and the total number could exceed 2 million.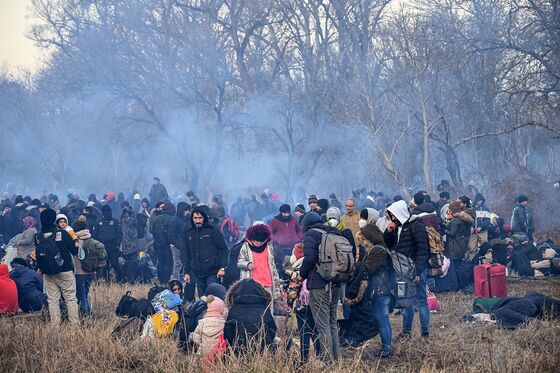 The deterioration in relations between the EU and Turkey, which is seeking to join the bloc, makes it politically tricky for European governments to comment openly about the prospect of faster or extra refugee aid for the country.
Coupled with Europe's predilection for soft over hard power and widespread opposition in Europe to Turkey's military presence in Syria, EU nations would probably shy away from offering Turkey what it might want most: military hardware.
The Turkish losses on Thursday mark the deadliest ambush for the country's military in several decades, and prompted a North Atlantic Treaty Organization meeting amid fears of a further escalation.
Significant numbers of migrants and refugees have gathered in large groups at the Greek-Turkish land border and have attempted to enter the country illegally, Greek Prime Minister Kyriakos Mitsotakis said. "I want to be clear: no illegal entries into Greece will be tolerated. We are increasing our border security."
Greece is in regular contact with the EU and NATO, a government official in Athens said on Friday.
The general downturn in EU-Turkish ties began just months after the 2016 refugee deal was reached. The EU became alarmed when Erdogan responded to a failed coup attempt in mid-2016 by unleashing a widespread crackdown on political opponents.
Relations soured further in 2018 when the Turkish navy prevented drilling by Italy-based Eni SpA in Cypriot waters and again late last year, when Turkey carried out a military operation in northern Syria to carve out a buffer zone and struck a controversial accord with Libya on their maritime boundary.
The acrimony has halted negotiations on a bid for EU membership by Turkey, which has been seeking to join the bloc since the 1980s and began accession talks in 2005.
Beneath all the high politics and gamesmanship in EU-Turkey ties are millions of innocent victims of Syria's brutal nine-year civil war. The lesson of the last migration crisis is that many thousands of these people will go to great lengths, including by risking their lives at sea, to escape awful living conditions.