Erdogan Fires Trade Minister After Allegations of Nepotism
(Bloomberg) -- Turkish President Recep Tayyip Erdogan fired his trade minister in an attempt to mitigate the damage from growing accusations of widespread nepotism in the government.
Ruhsar Pekcan was sacked on Wednesday with a midnight decree by Erdogan after she allegedly favored her husband's company in government tenders. The president named Mehmet Mus, a parliamentary whip of his ruling AK Party, as her replacement.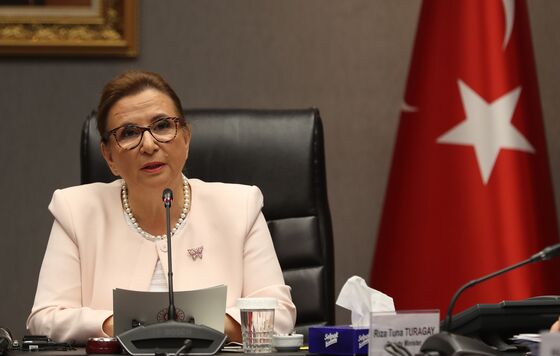 The abrupt ouster of the trade chief suggests Erdogan wanted to waste no time capping a new outpouring of discontent over the government's management of the economy, which had been steered by his son-in-law until his resignation in November. The president's approval ratings have dipped to lows last seen in 2019, when his ruling party lost municipal races in Turkey's largest cities.
Pekcan became a liability after the OdaTV website reported over the weekend that the Trade Ministry purchased disinfectants worth 9 million liras ($929,000) from two companies owned by her husband.
The former minister denied any wrongdoing in a statement Tuesday, saying the ministry made purchases worth half a million liras from her husband's company because it submitted the lowest bids.
Her departure isn't expected to create an imminent shift in policies covering tariffs and bilateral investment agreements.
The president took the opportunity of Pekcan's dismissal to make other personnel changes in the cabinet. He divided the Family and Labor Ministry in two, replacing the outgoing minister, Zehra Zumrut Selcuk. Erdogan appointed Derya Yanik, a member of his party's branch in Istanbul and currently the only female member of the government, as family minister. Vedat Bilgin, a former AK Party lawmaker and adviser to the president, was named labor minister.