Turkey Threatens Refugee Wave as Strike Fuels Tensions
(Bloomberg) -- Tensions soared between Turkey and Russia after an airstrike in Syria killed at least 33 Turkish soldiers, prompting Ankara to seek military support from allies even as it threatened to unleash a new refugee exodus to Europe.
Turkey won't be able to handle a new refugee flow if Idlib falls to Syrian government forces and it will have no choice but to "loosen" its policy of preventing migrants fleeing to Europe, Turkish President Recep Tayyip Erdogan's communications director Fahrettin Altun said in Ankara. The European Union said it had no reports of an increase in flows of people.
Erdogan, who has been careful so far not to publicly blame Russia, held a six-hour crisis meeting with his top security officials after the biggest single-day loss of Turkish troops in decades, vowing to strike back against Syrian government forces. Russia has denied involvement in the attack, but said it wouldn't stop its Syrian allies striking against "terrorists."
Neither the U.S. nor Europe has shown any inclination to back Turkey militarily in Syria, where Erdogan is supporting the last major rebel outpost in the northwestern Idlib province against the government. NATO limited itself to expressions of solidarity after envoys met at Turkey's request Friday in Brussels.
Erdogan plans to speak to U.S. President Donald Trump, German Chancellor Angela Merkel and French President Emmanuel Macron on Friday about the crisis, Altun said.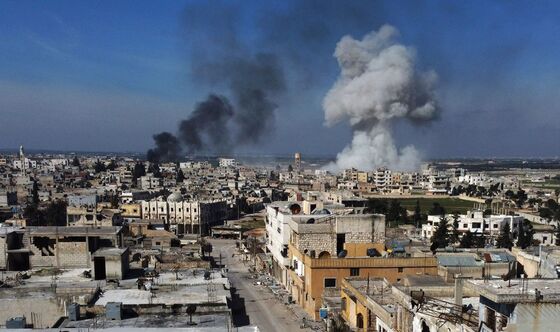 European Commission spokesman Peter Stano reiterated the bloc's calls to Russia for de-escalation, without announcing any concrete steps other than maintaining contacts with the parties involved. Stano said the Commission hasn't been notified of any changes in Turkey's migration policy and hasn't received any figures from EU member states so far showing a rise.
Turkish NTV on Friday broadcast pictures of Syrian refugees apparently walking toward the border with Europe.
Greece closed the customs post at its Kastanies border crossing with Turkey to prevent migrants gathered there from entering the country, a government official said. Greek Prime Minister Kyriakos Mitsotakis earlier spoke to Merkel about measures his government is taking to tighten border security.
Germany has "very great concern" over events in Syria and condemns the attack on Turkish troops while stressing the need for a cease-fire in Idlib, Merkel's spokesman Steffen Seibert said. The chancellor has made clear her desire for a four-way meeting with Erdogan, Macron and Russian leader Vladimir Putin, and the offer remains open to Russia, he said.
The Kremlin has previously rejected a four-way summit. It said that Putin discussed the crisis by phone with Erdogan on Friday, but announced no new initiatives beyond a commitment "to examine the possibility" of a meeting.
Russia so far has been cool to Erdogan's repeated appeals for a meeting with Putin. It accuses Turkey of backing terrorists in Syria and has stepped up air operations in support of Syrian government forces seeking to retake Idlib.
The Turkish troops had been "within the ranks of terrorist" groups that came under fire from Syrian government forces, the Russian Defense Ministry said in a statement. When it was clear there were Turkish casualties, Russia "took exhaustive measures for a complete cessation of fire" by the Syrian military, it said.
Turkish officials disputed the account, saying that Ankara had informed Moscow about the location of its forces. Turkey said it killed 309 Syrian troops in retaliatory strikes.
Turkey's benchmark Borsa Istanbul 100 Index plunged 10% at the open, its biggest intraday drop in almost seven years, before regaining ground, as the Syria tensions adding to a broader market selloff worldwide over the potential impact of the coronavirus outbreak. The yield on two-year government notes surged more than 50 basis points. The lira pared a drop of as much as 0.8%.
As the tensions rose, two Russian warships carrying Kalibr cruise missiles were sailing through the Dardanelles for a previously planned deployment off Syria, the official Tass news service reported, citing a statement from Russia's Black Sea fleet.
Turkish Defense Minister Hulusi Akar and top military commanders flew to an operation center on the Syrian border, signaling a major counter-offensive against Syrian forces. Turkish troops along the 911-kilometer (566-mile) Syrian border were placed on alert and there was intense air activity along the frontier, NTV television reported.
"Assad and regime forces will pay a heavy price for this heinous attack," Turkey's Vice President Fuat Oktay said Friday.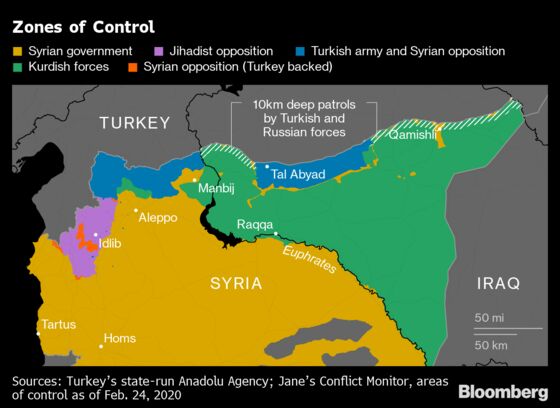 Turkish military action against the Syrian government would risk drawing "even more countries into this conflict, which would be unacceptable," said Vladimir Dzhabarov, first deputy chairman of the Foreign Affairs committee in the upper house of Russia's parliament. "I hope our troops won't allow any hasty steps and Turkey won't cross the line beyond which direct military conflict could result," he said.
Erdogan had earlier threatened to push back Syrian regime forces from Idlib -- where Turkish soldiers were helping enforce a tenuous cease-fire -- if they didn't withdraw by the end of February. His government reached out to the U.S. and Europe for assistance in stopping a major Syrian offensive on the province, where 51 Turkish soldiers have been killed so far this month.
Western capitals have shown little inclination to get involved.
Erdogan has acknowledged that his request for the U.S. to deploy Patriot missiles to deter Russian warplanes isn't likely to be fulfilled. Turkey's ties with its North Atlantic Treaty Organization allies have been strained over its purchase of an advanced Russian missile-defense system last year.
Turkish soldiers have been stationed at a dozen outposts in Idlib since a 2017 agreement with Russia and Iran to monitor a combat-free zone. In recent weeks, Syrian President Bashar al-Assad's forces have intensified attacks on rebel positions in the province, encircling some Turkish troops. Thursday's airstrike came after Turkey-backed forces recaptured the town of Saraqib, where at least one Turkish outpost is located.
"Erdogan backed himself into a corner by demanding Syrian forces withdraw," and he could resolve the situation without losing face by agreeing on new demarcation lines with Russia, said Elena Suponina, a Middle East expert based in Moscow. "It's a game of chicken. Since Erdogan started it, he should be the first one to stop," she said.