Erdogan Cast Aside as Trump Favors Other Mideast Strongmen
(Bloomberg) -- Turkey's President Recep Tayyip Erdogan could be forgiven for wondering why he alone among traditional allies in the Middle East has been singled out for U.S. sanctions on human-rights grounds.
Since taking office, the Trump administration has embraced those in the region whose priorities meshed with key U.S. policies, such as confronting Iran and Sunni Islamist groups. The authoritarian rulers of Saudi Arabia and Egypt, as well as Israel's Benjamin Netanyahu, are among those who tick that box.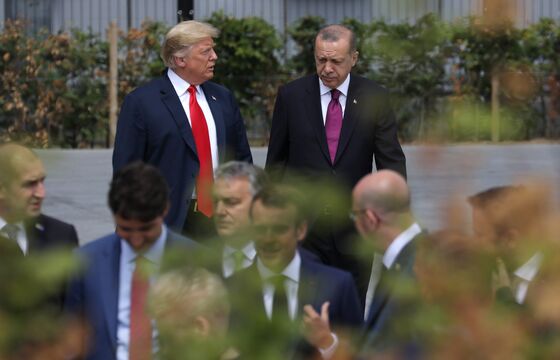 Erdogan, though, is moving in the opposite direction.
Despite being a NATO member, Turkey agreed to buy Russia's S-400 missile defense system over U.S. objections and allowed officials from the Muslim Brotherhood and Hamas to live on Turkish soil. In Syria, Erdogan's military attacked Kurdish groups seen by the Americans as the most effective fighting force against Islamic State militants. And the president has moved closer to Tehran.
Months before the current U.S.-Turkey dispute pushed the Turkish economy toward a financial meltdown, Secretary of State Michael Pompeo signaled that bilateral ties strained for years were under increasing pressure, when he told lawmakers in May that "the trend is wrong to be sure."
Turkey's detention of an American evangelical pastor first arrested in 2016 on charges he had links to those behind a failed coup sparked the latest and most serious dispute between the two allies. But it didn't appear publicly as an issue for the first 15 months of Trump's presidency. And the feud belies the Trump administration's lower focus on human-rights issues among its Middle East allies.
The president has lavished praise on Saudi Arabia's Crown Prince Mohammed Bin Salman, ignoring a clampdown on dissent in the kingdom and limiting criticism of the country's war in Yemen, which independent observers say has led to widespread civilian deaths.
Under Trump, the U.S. also released military aid to Egypt that was suspended over human-rights concerns, in a nod to President Abdel-Fattah El-Sisi, a former general who led the ouster of his democratically-elected Islamist predecessor. (The U.S. boosted Netanyahu by moving its embassy to Jerusalem, over the fierce objections of Palestinians.)
Both of the U.S. allies, along with Israel, have been at odds with Erdogan over his support for Islamist groups and his overtures toward Iran and Qatar, which has been under a Saudi-led boycott for more than a year. The approaches paid off on Wednesday as Qatar announced $15 billion in investment in Turkey.
Nowhere does Erdogan's shifting foreign policy strategy conflict with U.S. objectives more than his increasingly close embrace of both Iran and Russia.
Turkish Foreign Minister Mevlut Cavusoglu said on Tuesday that Ankara won't implement U.S. sanctions reimposed on Iran after Trump pulled out of the 2015 nuclear accord. Analysts say the two countries are finding more common ground in standing against the U.S.
Turkey and Iran are "increasingly in the same camp," said Ellie Geranmayeh, a senior fellow at the European Council on Foreign Relations. "If Iran can keep Turkey's oil purchases at the same levels to compensate whatever losses they have from other markets, that would be important from the Iranian perspective."
That would also undermine one of Trump's top foreign policy priorities, with the administration planning fresh sanctions on the Islamic Republic's oil sales starting in early November.
"The U.S. attempt to economically isolate Iran and pressure the country into negotiating a new nuclear deal is and will continue to be a priority of the U.S. foreign policy in the Middle East," said Allison Wood, a London-based analyst at Control Risks. "However, this is one of several issues that have resulted in volatile Turkey-U.S. relations over the past year."
Erdogan's embrace of Russia hasn't helped either. The decision to buy the Russian missile defense system prompted outrage among U.S. lawmakers, who passed a ban on delivering next-generation F-35 jets to the NATO ally until the Pentagon produces a report on the U.S.-Turkey relationship.
Despite the heightened U.S. pressure, Erdogan has remained defiant, saying it is the U.S. which is pushing him to reach out to American adversaries. He vowed to lead a boycott of U.S. electronics, singling out Apple Inc.'s iPhone as a target, and on Wednesday Turkey slapped additional taxes on a range of American-made imports.
But it's clear that Trump has more leverage.
His surprise announcement that he'd double tariffs on Turkey for its refusal to release the American pastor, Andrew Brunson, sent the lira -- already on the slide for months as investors fretted over the independence of monetary policy-making -- into a tailspin, turning a geopolitical standoff into a currency crisis with global ramifications.
"Ankara completely overplayed its hand. The president has no guard rails," said Aaron Stein, senior resident fellow at the Rafik Hariri Center for the Middle East at the Atlantic Council, and author of "Turkey's New Foreign Policy."
The U.S. has also accused Turkey's state-owned Halkbank of helping Iran evade sanctions and has convicted one of the bank's executives. And under both Trump and his predecessor, Barack Obama, Washington has repeatedly rejected Turkey's request to deport a Pennsylvania-based cleric Erdogan says was the mastermind of the 2016 attempted coup.
Neither leader will likely back down as they take "into account domestic audiences when calculating their reaction to the other side," said Wood of Control Risks. Put another way, all politics is local.
"For Trump, fighting for the release of an evangelical priest plays to a crucial voter base in the November mid-term elections; for Erdogan, his reaction similarly reflects a desire to demonstrate to voters his power in Turkey's relationship with the U.S."