Erdogan Demands Saudi Arabia Hand Over Khashoggi Suspects
(Bloomberg) -- Saudi Arabia must hand over the 18 suspects Turkish investigators have identified in the murder of journalist Jamal Khashoggi in a sign of its goodwill, Turkey's president said on Friday, as he announced that the kingdom's chief prosecutor would visit over the weekend.
"If you want to eliminate this suspicion, the key point for our collaboration is those 18 people," Recep Tayyip Erdogan said. "If you are unable to make them speak, since the incident took place at the consulate in Istanbul, hand them over to us and let us prosecute them."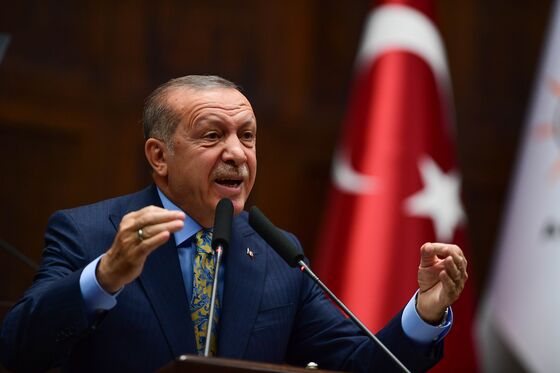 Erdogan said the suspects know who murdered Khashoggi because the culprit "is among them." He said the Saudi leadership must explain who ordered the killing, and divulge the whereabouts of Khashoggi's body and the identity of an alleged local collaborator.
The president spoke a day after Saudi authorities came close to acknowledging that the murder of insider-turned-critic Khashoggi was premeditated, as pressure mounts on the kingdom to provide a credible explanation for the killing.
Saudi Arabia's shifting narrative over what happened to Khashoggi has prompted an international outcry and left its allies demanding answers. The Trump administration is facing rising pressure to act against one of its main allies in the region and the president has appeared to be stepping back from giving Crown Prince Mohammed bin Salman his full support. The U.S. has long been Saudi Arabia's most important partner and Trump has made the kingdom the centerpiece of his efforts to isolate Iran.
The Saudi prosecutor overseeing the case will arrive in Turkey on Sunday, the president said, and will meet with his Turkish counterpart.
Central Intelligence Agency Director Gina Haspel briefed President Donald Trump on Thursday following a quick trip to Turkey this week. The Washington Post reported that Haspel heard an audio tape allegedly made of Khashoggi's interrogation and killing at the Saudi consulate in Istanbul on Oct. 2.
Erdogan said that Turkey has more evidence in the case, but was in no hurry to release it. He didn't elaborate on the reasons for not doing so.