Epstein's Former Pilot Testifies About Shuttling Clinton, Trump and Spacey
(Bloomberg) -- Jeffrey Epstein's pilot of almost 30 years recalled shuttling several bold-faced acquaintances of the disgraced financier, as well as meeting one of the girls prosecutors say was just 14-years-old when Epstein began abusing her.
Lawrence Visoski Jr. said on his second day testifying in the sex-trafficking trial of Epstein's ex-girlfriend Ghislaine Maxwell that a "mature woman" with striking blue eyes identified by prosecutors as "Jane" was brought by Epstein to the cockpit sometime in the mid 1990s in Palm Beach, Florida.
Visoski also said that Epstein once asked him to fly the jet to Traverse City, Michigan, where the Interlochen Center for the Arts for gifted children is located, to pick up luggage. 
Prosecutors say Jane, a singer, was about 14 when she met Epstein and Maxwell at Interlochen, while sitting on a park bench during a break. 
The jury was shown flight logs and birth certificates of alleged victims.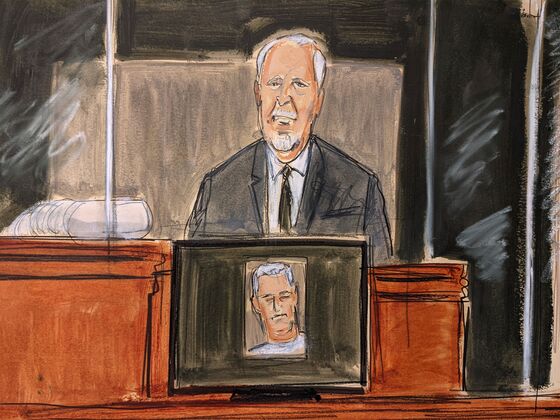 Prosecutors are only identifying the alleged victims under pseudonyms and have argued Maxwell and Epstein met Jane at the camp in about 1994 and later lured her to his Florida home where he began sexually abusing her. Maxwell is charged with trafficking girls for abuse by Epstein and participating in some of the abuse herself. She has pleaded not guilty and denies all the charges.
Under cross-examination by Maxwell's lawyer Chris Everdell, Visoski said he "never" saw any females who appeared to be under the age of 20 during the three decades he piloted Epstein's various planes nor any illegal activity aboard when he'd leave the cockpit to use the restroom.
He also testified to the high society that Epstein and Maxwell kept, naming several famous passengers that he flew -- though the names aren't new. He recalled comedian Chris Tucker, actor Kevin Spacey, and former presidents Bill Clinton and Donald Trump. 
Clinton flew on the Epstein planes "a couple of times" in the 1990s, and Trump, he said, flew more than once.
"I certainly remember the president," he said, also naming former Senator John Glenn and violinist Itzhak Perlman.
Visoski said he was asked to sign a non-disclosure agreement, "a fairly normal request for people who fly jets."