Envoy Says Trump Meeting, Ukraine Probe Linked as Quid Pro Quo
(Bloomberg) -- A senior U.S. diplomat contradicted Donald Trump's claim there was no quid pro quo in his dealings with Ukraine, according to congressional testimony showing his concern with attempts by the president and his allies to get Ukrainian officials to launch a probe linked to Joe Biden.
Gordon Sondland, U.S. ambassador to the European Union, said he believed the demand for an investigation "would have to be complied with" before Ukrainian President Volodymyr Zelenskiy could meet with Trump, according to a transcript of his testimony to the three House committees leading the impeachment probe.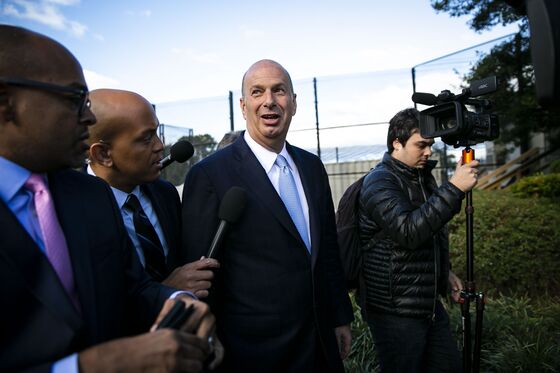 Sondland said the demands made on the Ukrainian government were pushed by Trump's personal lawyer, Rudy Giuliani, and were initially just related to corruption, but "kept getting more insidious" as time went on.
The ambassador made his initial remarks behind closed doors, and he later returned to Capitol Hill to review his testimony after reading the opening statements of other witnesses. On Monday, he submitted a revision to add further recollections about demands of Ukraine. The transcript published Tuesday includes both his deposition and his revision.
Sondland, in his original testimony, said Giuliani didn't directly discuss the former vice president or his son, Hunter Biden, and that he wasn't initially aware of the connection between the Bidens and the Ukrainian gas company Burisma. But it became clear that Burisma and unsubstantiated claims of Ukraine involvement with a hacked Democratic National Committee computer server were at the center of Giuliani's interests.
In a conversation after Zelenskiy's May inauguration, "Giuliani emphasized that the president wanted a public statement from President Zelenskiy committing Ukraine to look into anti-corruption issues," Sondland testified. "Mr. Giuliani specifically mentioned the 2016 election, including the DNC server, and Burisma as two anti-corruption investigatory topics of importance for the president."
Sondland, a Portland businessman and Trump donor, is the first senior administration official who had direct contact with the president to outline an attempt to link the release of U.S. military aid to Ukraine with demands that the government there instigate an investigation that would benefit Trump politically. That is the central focus of the impeachment inquiry led by House Democrats.
However Sondland said that while he was told what the president wanted from Ukraine, he does not know first-hand if the aid was delayed with the purpose of getting what the president wanted.
"I did not know (and still do not know) when, why or by whom the aid was suspended," Sondland said in the revision to his earlier testimony that was submitted on Monday. "However, by the beginning of September 2019, and in the absence of any credible explanation for the suspension of aid, I presumed the aid suspension had become linked to the proposed anti-corruption statement."
The White House seized on that portion of Sondland's testimony and the transcript from former special U.S. envoy to Ukraine Kurt Volker.
"Both transcripts released today show there is even less evidence for this illegitimate impeachment sham than previously thought," White House press secretary Stephanie Grisham said in a statement. She said Sondland couldn't identify the source of his presumption and that Volker testified that he didn't believe the Ukrainians knew about the hold on military aid at the time.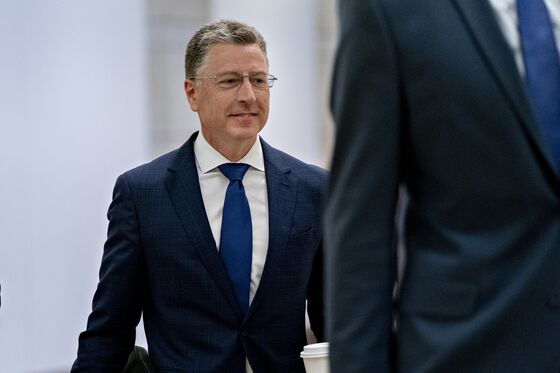 Both Sondland and Volker put Giulilani at the center of the effort to extract a promise of an investigation from Ukrainian officials.
Volker said that when he met with Zelenskiy in Canada on July 3, he told him there is a "negative narrative about Ukraine" in the administration that "and that this is being amplified by Rudy Giuliani."
Volker said he didn't listen to Trump's July 25 phone call with Zelenskiy and only got superficial readouts about the conversation, in which Trump mentioned Biden by name. So when he was negotiating the draft of a statement by the Ukrainians in August, he was unaware that Trump wanted Zelenskiy to investigate the Bidens, but his Ukraine counterparts were familiar with that request.
However, he also said he didn't think the Ukrainians were aware that the military assistance was being blocked, "so there was no leverage implied."
Beyond the aid, though, the Ukraine government was seeking a White House meeting for the new president as gesture that would confer credibility and support at a time when Ukraine remains under pressure from Russia.
Volker also defended Biden's efforts as vice president to pressure Ukrainian authorities to fire former Prosecutor General Viktor Shokin.
"He was executing U.S. policy at the time and what was widely understood internationally to be the right policy," Volker said, according to the transcript.
More impeachment coverage
Scrolling Bloomberg coverage of impeachment inquiry
Sondland and Volker had pivotal roles in the Trump administration's interactions with Ukraine that are at the heart of House Democrats' impeachment inquiry. They and Energy Secretary Rick Perry were known as the "three amigos," deputized by the White House to help Giuliani lead back-channel administration overtures to Ukraine.
Perry also has been asked to testify before the committees but is refusing to do so, at the direction of the White House.
Sondland is a key figure because of his direct conversations with the president and Ukrainian officials. Volker, the first witness to testify before the three impeachment panels, turned over text messages between senior State Department officials, some of whom expressed concern over Giuliani's activities.
The transcripts were the second set released by the three Democratic-led committees conducting the inquiry, which is set to move on to public hearings as soon as next week. On Monday, transcripts from former Ambassador to Ukraine Marie Yovanovitch and Michael McKinley, a former senior adviser to Secretary of State Michael Pompeo, were made public.
Congress had approved nearly $400 million in aid to Ukraine, in part to help it build up military capabilities as it battles Russian-backed separatists. However, release of the money was held up for several months at the same time that some administration officials were discussing getting a commitment from Ukraine's president to investigate Burisma and pursue the conspiracy theory that Ukraine aided Democrats in 2016.
Despite pressure from Republican and Democratic members of Congress for release of the aid, Trump held up the money until Sept. 11. That was days after lawyers for a whistle-blower who raised concerns about Trump's interactions with Ukraine's president informed the heads of the Senate and House Intelligence committees that the intelligence community's inspector general didn't intend to send the complaint to Congress.