Minor U.K. Soccer Clubs Hail U.S. Billionaire Bailout
(Bloomberg) -- Owners of English soccer's lower-tier professional clubs are responding warmly to a plan that would deliver them a bigger share of major teams' revenue, even as the U.K. government and the sport's top league raise concerns about the proposal.
Under the "Project Big Picture" plan, 25% of the wealthy English Premier League's 3 billion pounds ($3.9 billion) a year in broadcast revenue would be redistributed to the 72 smaller English Football League teams that form the base of England's so-called soccer pyramid. Those clubs, reeling from the suspension of stadium attendance during the Covid-19 pandemic, see that as a lifeline.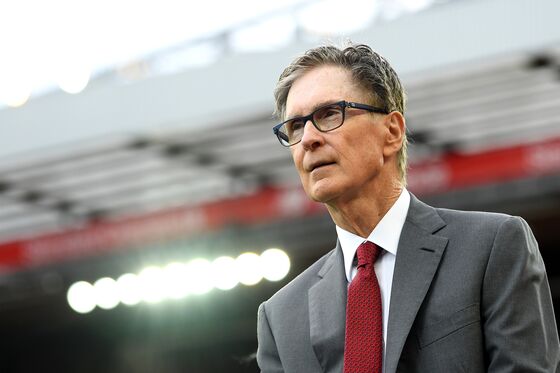 The proposal is backed in part by two of the Premier League's biggest names, Liverpool owner John Henry and Manchester United owner Joel Glazer. "It looks like two American billionaires have come up with an answer to the inequalities in our game that is very important," said Charles Grant, director of third-tier team Crewe Alexandra.
"This is the first serious attempt that we have seen to answer the major strategic issues facing the football pyramid," Charlie Methven, the co-owner of third-tier team Sunderland, said via email.
Nigel Travis of fourth-tier Leyton Orient said he supported the plans based on what he knew. "I'm excited to hear more as we will this week," he added via email.
The plan also includes a 250 million-pound rescue fund to bolster clubs as their lack of ticket revenue drags on. But it would also reduce the number of teams in the Premier League to 18 from 20, and concentrate decision-making power in nine clubs -- including Henry's and Glazer's.
"I'm quite skeptical about this," Oliver Dowden, a U.K. secretary of state whose remit includes sports, said on Monday. "I'm afraid if we keep having these backroom deals and all these other things going on, we will have to look again at the underlying governance of football."
Prime Minister Boris Johnson's spokesman, James Slack, said on a conference call with reporters that the proposal "clearly" lacks support throughout the Premier League.
The Premier League itself blasted the proposal in a statement Sunday, saying some of the suggested changes "could have a damaging impact on the whole game."
EFL Chairman Rick Parry will try to explain the plans to his 72 teams during the week. Ultimately, any changes will need the support of 14 teams out of the Premier League's 20.
Sunderland's Methven urged Dowden and the Premier League to offer their own rescue plan. "Because as the rest of us sit here trying to save clubs with big cost bases and almost no revenues," he said, "they have spent three months doing precisely nothing to help except hold endless cozy meetings the only purpose of which seems to be to kick the can down the road, through the long grass and into a ditch, preferably never to be seen again."