England Faces Up to 200 Daily Covid Deaths When Peak Hits
(Bloomberg) -- England is facing multiple "major risks" after pandemic restrictions are lifted next week -- including hospitals coming under intense pressure, a new vaccine-resistant variant emerging, and as many as 200 Covid-19 deaths per day.
New data from government scientific advisers suggests the picture could be far worse if the public immediately abandons basic precautions, such as wearing face coverings on trains, when the rules are eased on July 19.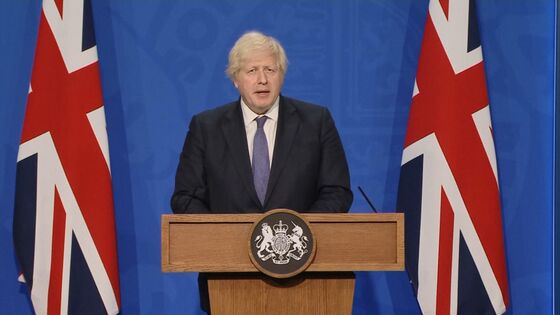 The outlook prompted a warning from Prime Minister Boris Johnson, who told Britons not to go back to to pre-pandemic life in "a great jubilee" as soon as the legal curbs end.
"It is absolutely vital that we proceed now with caution and I cannot say this powerfully or emphatically enough -- this pandemic is not over," Johnson said at a televised press conference Monday. "Coronavirus continues to carry risks for you and for your family."
The findings, based on a clutch of studies commissioned by government advisers, will fuel the debate over whether Johnson is taking too big a gamble by pressing ahead with his plan to lift curbs next Monday.
He has faced criticism from the opposition Labour Party as well as from medical associations for the decision to end the legal requirement to wear face coverings on public transport.
Yet members of Johnson's Conservative Party and hospitality industry representatives have been desperate for the government to lift the rules so businesses like nightclubs and theaters can reopen.
The U.K.'s Scientific Advisory Group for Emergencies (SAGE) said there is no certainty about what will happen once existing laws on social gatherings and mask-wearing expire because so much depends on how people behave.
But scientists believe the most likely scenario will see a surge in infections causing 1,000-2,000 people to be admitted to hospital every day when the expected peak hits in August.
Between 100 and 200 patients a day could die from Covid-19. Both the hospitalization and death rates would be significantly below the peak in late January, when more than 1,200 deaths were recorded each day in England.
More pessimistic scenarios -- in which people rush back to work in offices and ignore advice on mask-wearing -- could see hospital admissions exceed the January figures.
"Even if lower than previous peaks, the number of admissions may become challenging for the NHS," according to the minutes of a meeting of SAGE held on July 7.
England's Chief Medical Office Chris Whitty said an "exit wave" of infections is inevitable but delaying lifting the restrictions would not make much difference to case levels. "There is no clear evidence that a delay now is going to make a difference," he said. "What is going to make a difference is going slowly."
Johnson appealed to the public to wear masks in crowded indoor spaces and on buses and trains. He said that while the general instruction to work from home would end, "we don't expect that the whole country will return to their desks as one from Monday" and businesses should plan for a "gradual return to work over the summer."
Nightclubs and other venues with large crowds should ask customers to show the National Health Service "Covid pass" as proof of vaccination, a recent negative test or natural immunity, as a "matter of social responsibility."
The government will not hesitate to impose fresh restrictions if necessary to keep the public safe from a new variant, Johnson said.
The government's scientific models agree that "a period of extremely high prevalence of infection" will last until at least the end of August, the SAGE minutes said. That will increase the chances of new variants emerging which could potentially evade vaccines.
The group identified "four major risks" associated with high numbers of infections:
An increase in hospitalizations and deaths
More 'Long-Covid'
Workforce absences (including in the NHS)
Increased risk of new variants emerging
"The combination of high prevalence and high levels of vaccination creates the conditions in which an immune escape variant is most likely to emerge," the SAGE minutes stated. "The likelihood of this happening is unknown, but such a variant would present a significant risk both in the U.K. and internationally."
The advisory group also said it may become more difficult to access Covid testing if the system is "overwhelmed" after the curbs are lifted, meaning it could be more difficult to identify a new variant quickly.
The government has said it wants to prevent a surge in infections putting too much pressure on the NHS. In the minutes, SAGE called for the health service to put in place contingency plans in case hospital admissions surge.