Emerging-Market Assets Rally to Highest Since 2018 on Biden Lead
(Bloomberg) -- Emerging-market stocks and currencies climbed to their highest in more than two years as Democrat Joe Biden moved closer to victory in the U.S. presidential election.
MSCI Inc.'s developing world stock index rose past a January peak and 23 of 24 currencies tracked by Bloomberg climbed as investors cheered the prospect of a Democratic president and a Republican-controlled Senate. The Russian ruble led gains, paced by Brazil's real, as the Mexican peso passed a key level and reached its highest since March. A measure of volatility in developing-nation currencies dropped to near the lowest since August.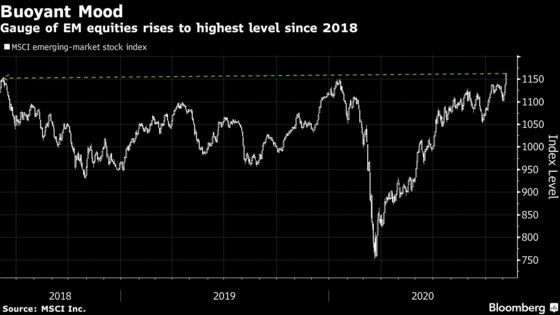 Investors are betting a Biden presidency with a Republican-controlled Senate make a multi-trillion-dollar stimulus package less likely, forcing the Federal Reserve to keep rates lower for longer. That helped lift Treasuries while weakening the dollar. With final election results still uncertain, the Fed left interest rates near zero on Thursday and made no change to asset purchases.
"I was expecting a post-election rally in EM regardless of the outcome, but this is a little more than I would have thought," said Greg Lesko, a portfolio manager at Deltec Asset Management in New York.
MSCI's emerging-market stock index climbed 2.9% to the highest since May 2018, erasing all its post-pandemic losses. The gauge was bolstered by stocks in China, Argentina, Indonesia and South Africa.
Read more:
UBS Says Biden Win, Split Congress Is 'Optimal' for Asian Stocks
It's Risk-On for Debt as Biden Win Comes Into Focus: Latam Bonds
These Are Key Levels for Emerging Markets Amid U.S. Election
Developing-nation assets seesawed during Wednesday's U.S. vote count as Biden's tally initially fell short of opinion-poll projections and prospects of a sweeping Democrat win in both houses diminished, reducing optimism over a big stimulus package. Trump's campaign said it's suing in Pennsylvania and Michigan to halt vote counts that were trending toward Biden.
"Trump's defeat is good for emerging markets and investors will start re-allocating cash to EM in a big way," said Charles Robertson, a London-based analyst at Renaissance Capital. "This becomes a self-reinforcing cycle of EM FX appreciation giving good returns to dollar investors, which in turn attracts more money to EM and in turn pushes EM FX stronger."
Below are some views from emerging-market investors and analysts on the vote outcome so far:
Regardless of the election outcome, the U.S. will probably opt for some additional fiscal stimulus and the Fed will remain extremely accommodative along with other major central banks, supporting emerging markets, said James Barrineau, global head of emerging-market debt strategy at Schroders, which oversees $649.6 billion.
Investors should take advantage of steep curves and attractive yields by buying Latam USD BBB long bonds outright or through 10s30s flatteners, according to William Snead, a fixed income strategist at BBVA in New York.