Biden's Lead Narrows In Biggest Arizona County: Election Update
(Bloomberg) -- The U.S. presidential election remained unsettled Wednesday as key states continued to count ballots, in particular those cast by mail in unprecedented numbers. To the consternation of President Donald Trump, the day-after counting was giving a boost to Democratic nominee Joe Biden in the few battleground states where the results remained in flux. Both candidates retained potential paths to victory.
2020 Election Results Overview: BGOV Election OnPoint
Biden's Lead Narrows In Biggest Arizona County
Biden's lead over Trump narrowed in Arizona's Maricopa County to about 52% to 47% with roughly 76,000 additional ballots counted there as of Wednesday night.
The county has about 362,000 ballots left to process, according to the Maricopa County Elections Department, which plans another data update at about 1 a.m. EST.
Maricopa County, the state's most populous with nearly 2.6 million registered voters, is crucial to Biden's hold on a lead and Trump's hope for a comeback.
The county has the largest share of roughly 600,000 ballots that were outstanding statewide as of Wednesday afternoon, Secretary of State Katie Hobbs said in an interview with CNN. Other counties throughout Arizona will continue to update their results periodically. -- Brenna Goth
Nevada's Big-City Results Coming Thursday (8:50 p.m.)
Nevada won't provide any new unofficial election results from its major urban areas until roughly noon or later New York time on Thursday, based on announcements from the secretary of state's office and county officials. That leaves a nail-biting race in limbo for another night; a Biden victory in Nevada would nail the 270 votes he needs -- assuming other states' unofficial results hold.
So far, Biden leads the state by fewer than 8,000 votes in returns that represent all in-person votes on Election Day and early voting as well as most mail-in ballots received before Nov. 3. Remaining ballots include all other mail-in and provisional ballots cast by same-day registered voters. The total number of outstanding ballots is unknown, said Nevada Secretary of State Barbara Cegavske.
While Cegavske said her office may post some results to its website before a full announcement on Thursday, those results won't include new information from Clark County, home to Las Vegas, and Washoe County, home to Reno. Both counties said they'll update their election results on Thursday at about 1 p.m. New York time.
No matter what, the numbers won't be final on Thursday. Nevada allows mail-in ballots postmarked on Election Day to be received by clerks until Nov. 10; rejected ballots may be "cured" by voters until Nov. 12. -- Laura Bliss and Sarah Holder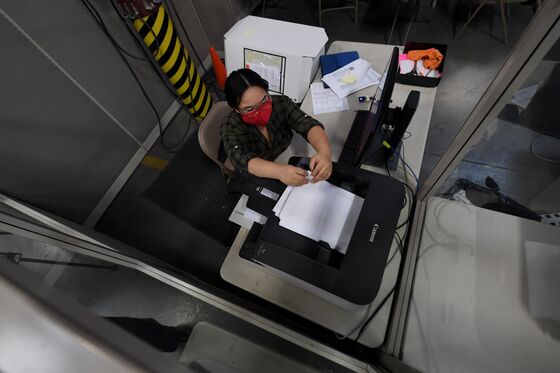 Biden Team Launches a Transition Website
Federal agencies and campaign staff members have for months been quietly planning for a potential presidential transition, but there are limits to how much Biden's team can do now, while the contest is still undecided. Even if Biden ultimately prevails, he can't flood federal agencies with transition teams focused on preparing the way for his administration until after the race is called. -- Jennifer A. Dlouhy
In Philly, Ballot Observers Keep Their Distance (6:43 p.m.)
Trump's campaign has said it's going to sue Philadelphia for keeping poll observers too far away to look over the shoulders of those counting of mail-in and absentee ballots. A city official said that's how it's supposed to work.
A tour with reporters Tuesday of the cavernous hall at the Pennsylvania Convention Center, where city workers were processing the mail-in ballots, showed that observers were kept behind a grate that kept them a distance away.
"'Observe' means to any intelligent person being able to look at," said Rudy Giuliani, a lawyer for the Trump campaign, during a news conference Wednesday in Philadelphia. "The way it's interpreted by the Democratic crooked machine of Philadelphia is that the observers can be 20 or 30 feet away, never able to see the ballot itself."
A spokesman for city commissioners declined to comment on Giuliani's criticism, but Commissioner Omar Sabir said in response to the threatened lawsuit that "what we did was appropriate." – Sophia Cai and Mark Niquette
Facebook Tags McEnany's Pennsylvania Post (4:55 p.m.)
Facebook extended its policy on election messaging Wednesday and tagged a post by White House Press Secretary Kayleigh McEnany as potentially misleading. McEnany had inaccurately posted that Pennsylvania was called for Trump.
"We're now expanding our labels on premature declarations of victory to apply to people other than the presidential candidates - both at state-level and overall," Facebook spokeswoman Liz Bourgeois said. Earlier Facebook said it would only label misinformation about the overall presidential race, not individual state races.
The company's label says: "Final results may be different from the initial vote counts, as ballot counting will continue for days or weeks after polls close." -- Sarah Frier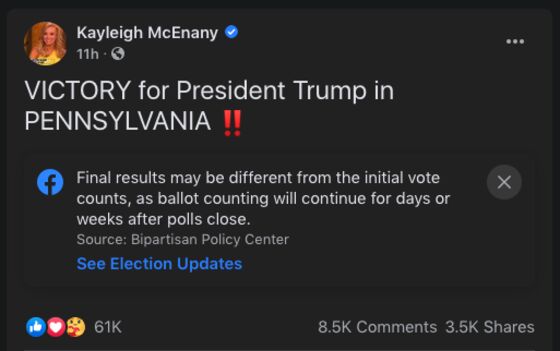 Crowd Stirs Trouble at Detroit Ballot Center (3:59 p.m.)
Police blocked Republican and Democratic poll challengers and briefly locked the door to a Detroit ballot-counting center as an unruly crowd gathered outside Wednesday, the Detroit News reports.
The Republican challengers had a verbal altercation with an elections worker over replacing ballot challengers who were already inside, according to the News.
As Trump's campaign filed a lawsuit in Michigan to halt ballot counting, some in the crowd briefly chanted "Stop the votes!"
Biden currently has a lead of around 37,000 votes in Michigan, which has 16 electors. The mostly mail-in ballots in Detroit are expected to add to that lead, as Democrats voted by mail in far greater numbers this year than Republicans. -- Ryan Teague Beckwith
Arizona Has 460,000 Ballots Yet to Report (3:37 p.m.)
Arizona's largest county has roughly 460,000 ballots yet to report as Trump claims he can still win the state despite the Associated Press having called it for Biden.
Maricopa County is still counting 248,000 mail-in ballots received in the last few days as well as an estimated 160,000 to 180,000 mail-in ballots dropped off on Election Day, according to Maricopa County Elections Department Spokeswoman Megan Gilbertson. The county has an additional 18,000 provisional ballots to count.
Maricopa County will release its next results at about 9 p.m. New York time. Results will continue daily until all ballots are reported. Uncounted ballots remain throughout the state, though it's unclear how many. Counties reported more than 100,000 estimated uncounted ballots to the Arizona Secretary of State dashboard, but not all counties are reporting that data yet. -- Brenna Goth
Main Drama Aside, New Jersey's Count Crawls (3:29 p.m.)
Though they're not part of the presidential race's suspense, voters in New Jersey nonetheless will have to wait for a complete accounting of Tuesday's election, Republican and Democratic party leaders say. The state probably won't have results from its almost exclusively vote-by-mail election until mid-November.
To reduce the spread of Covid-19, almost all in-person voters used paper ballots, which must be screened for duplication.
"Most counties don't know how many provisional ballots we have," John Currie, chairman of the State Democratic Committee and the Passaic County elections board, said in a webcast appearance. "They have to go through a process to count it." He said results will take as long as 10 days, even though officials had a 10-day head start to count mailed ballots received before deadline.
Harrison Neely, a spokesperson for the Republican State Committee, said the party agreed that the count will take that long. Still, the Associated Press called the state for Joe Biden for president and fellow Democrat Cory Booker for U.S. senator, plus winners of 11 of the 12 congressional races.
In the 2nd congressional district, Democrat-turned-Republican Jeff Van Drew was leading his challenger, Amy Kennedy. With 75% of precincts reporting, Van Drew, whose southern New Jersey district is the state's largest by geography, had 51% to Kennedy's 48%. Van Drew in December 2019 switched parties to Republican, pledging his "undying support" to Donald Trump in a state where the president is unpopular. Kennedy, a mental-health advocate who married into the Kennedy political family, is seeking national office for the first time. -- Elise Young
Biden Beats Obama's Popular Vote Tally (3:05 p.m.)
With ballots still being counted, Biden has garnered almost 70.5 million votes for president, beating a record previously held by his former boss, President Barack Obama.
Obama collected 69.5 million votes in 2008.
So far, Trump has received 67.8 million votes. He lost the popular vote in 2016 by nearly 3 million votes even as he beat Hillary Clinton in electoral votes. -- Laura Davison
Wisconsin Prepares for Trump-Requested Recount (2:50 p.m.)
Meagan Wolfe, the Wisconsin Elections Commission administrator, said she is working with county election officials to prepare for the possibility of a recount in the state.
Trump campaign manager Bill Stepien said the president plans to "immediately" request a recount in the battleground state. In Wisconsin, if a race is within 1 percentage point, the trailing candidate can force a recount. Wolfe said she hasn't yet received an official request. The deadline to request the recount is within three days of the official results.
Green Party candidate Jill Stein requested a recount in the 2016 presidential election, which took the state 17 days to complete. -- Laura Davison
Biden Sets Up 'Fight Fund' for Legal Challenges (2:37 p.m.)
Biden's campaign and the Democratic National Committee have established a Biden Fight Fund as the outcome of the election remains undecided in five states and Trump's campaign has asked for a recount in Wisconsin and filed a lawsuit in Michigan.
Jen O'Malley Dillon, Biden's campaign manager, said in an email to supporters that the campaign aims to put in place "the biggest and most comprehensive legal effort ever assembled" after Trump "threatened to go to court to prevent the proper tabulation of votes."
A separate email solicitation asked donors to direct their contributions to ActBlue, the Democrats' online fundraising system. "Your donation right now is absolutely critical to electing Joe, Kamala, and Democrats across the country, and we're counting on a surge of donations to fund all that we need to accomplish."
Five states -- Pennsylvania, North Carolina, Georgia, Nevada and Michigan -- have yet to be called. The Trump campaign has demanded a recount in Wisconsin, which Biden carried with a margin of less than 1 percentage point in unofficial returns. The Trump team, claiming to not have had access to numerous counting locations, is suing Michigan to halt counting of ballots. -- Bill Allison
Pennsylvania Official Says Recount Not Inevitable (2:07 p.m.)
Kathy Boockvar, the Pennsylvania Secretary of the Commonwealth, said she doesn't think a recount in the state is inevitable.
An automatic recount is triggered in Pennsylvania if the two candidates are within 0.5 percentage points of each other. Trump is currently leading with 53.4% of the state's vote, compared to Biden's 45.5%, with more than a million votes left to count. In 2016, Trump won Pennsylvania by 0.72% percentage points. -- Laura Davison
Trump Campaign to Monitor Count in Arizona (1:23 p.m.)
The Trump campaign plans to dispatch a team to Arizona to monitor the state's vote count and believes the final tally will be in the president's favor, according to people familiar with the matter.
Trump's campaign has tried to persuade the two news organizations to reverse those calls, the people said.
Stepien, Trump's campaign manager, said in a conference call with reporters that the campaign believes there are about half a million ballots still to be counted and that those votes will favor Trump by as much as a 70% margin, which would give him the edge in the state.
The Arizona Republic reported earlier in the day that at least 400,000 ballots remained to be counted, based on a survey of nine of 15 counties.
The strategy could be seen as contradicting Trump's complaints, in late-night remarks and again on Twitter on Wednesday, about other states that are continuing to count their votes, singling out Michigan, Wisconsin and Pennsylvania. -- Jennifer Jacobs and Mario Parker
Trump Wants Wisconsin Recount With Biden Ahead (1:14 p.m.)
Trump will ask for a recount in Wisconsin, Stepien said in a statement Wednesday. In presidential elections, the state allows for recounts in cases where the second-place candidate trails the winner by no more than 1% of the votes cast.
"There have been reports of irregularities in several Wisconsin counties which raise serious doubts about the validity of the results," Stepien said in a statement. He also said public polling had been used as a "voter suppression" tactic.
Wisconsin Elections Commission administrator Meagan Wolfe said she was "confident that every single ballot was counted." Wolfe had earlier declined to confirm unofficial tallies that show Biden with a lead of more than 20,000 votes, noting the commission doesn't give an official count until it certifies the results. An unofficial count provided by the Associated Press shows Biden leading with 49.6% to Trump's 48.9%. No major network has called the state yet. Wisconsin won't certify its results until Dec. 1.
"The President is well within the threshold to request a recount and we will immediately do so," Stepien said.
Wisconsin's former Republican Governor Scott Walker said a 20,000-vote margin presents a "high hurdle" for Trump to clear if the current count holds. In a recount in 2016, when Trump won Wisconsin by 0.8 percentage point, his tally rose by just 131, Walker said in a tweet. -- Amanda Albright
Michigan's Remaining Votes Called Largely Urban (12:44 p.m.)
About 100,000 ballots remain uncounted in Michigan -- and the vast majority are mail-in ballots from cities, Secretary of State Jocelyn Benson said.
"Ballots are still being counted in some of our largest jurisdictions including Detroit, Grand Rapids, Flint, Kalamazoo and numerous other townships," Benson said, speaking during a virtual update.
That bodes well for Biden because those cities lean blue, especially Detroit and Flint.
Benson also said that she expects to have results earlier than she had initially projected. "We are on track to have our results in much sooner," she said. "By the end of the day the majority of our ballots will be tabulated and we expect to have preliminary results to report." -- David Welch, Gabrielle Coppola and David McLaughlin
Wisconsin Says All Votes In; Biden Leads Count (12:18 p.m.)
Wisconsin's Elections Commission administrator said "all the votes are in" in the battleground state, but she declined to confirm unofficial tallies that show Biden with a lead of more than 20,000 votes.
"All of the ballots have indeed been counted," Meagan Wolfe, the commission administrator, told NBC News. "So the ballots are back from the local precincts, they've counted the Election Day votes. And every ballot that arrived by 8 p.m. yesterday was counted at the essential count facility or at the polling place."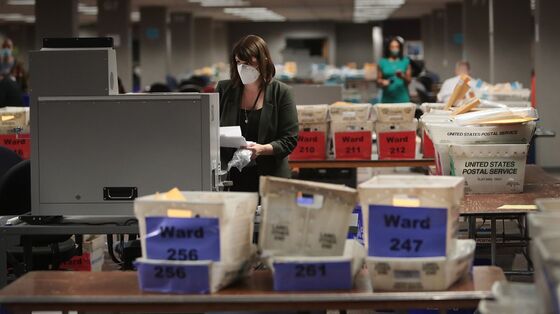 Unofficial Wisconsin tallies provided by the Associated Press show Biden with 1,630,396 to Trump's 1,609,879. --Misyrlena Egkolfopoulou
Michigan Unofficial Results Possible by Day's End (11:56 a.m.)
Preliminary results from Michigan could be released by the end of the day, once the majority of ballots are counted, Secretary of State Jocelyn Benson said.

There are still "tens of thousands" of votes yet to be tabulated, and many of the remaining votes are from the state's population centers -- Detroit, Grand Rapids, Flint and Kalamazoo, she said on CNN.

Benson said she asked for "patience" while election workers process "every single valid vote cast." -- Laura Davison
With 250,000 Ballots Left, Georgia Nears Finish (11:49 a.m.)
Georgia Secretary of State Brad Raffensperger said Wednesday the state has only about 250,000 ballots left to count, and he expects to have every vote counted by the end of the day. Votes remain uncounted from DeKalb, Fulton and Forsyth counties, among others. DeKalb and Fulton lean Democratic. Forsyth leans Republican. -- Michael Sasso
Opening, Counting Mailed Ballots Takes Time (11:35 a.m.)
As Trump conjures up images of massive fraud in counting mail-in ballots after Election Day, Philadelphia officials sought to reassure voters that it just "takes a little bit of time," as city Commissioner Al Schmidt put it.
Both an inner secrecy envelope holding the ballot and an outer envelope have to be opened, then the ballot extracted, flattened and scanned -- and counting stations must be cleaned between shifts, Schmidt said at a Wednesday morning news conference.
Large-scale mail-in balloting is also new to Pennsylvania, which approved it in October 2019, before the coronavirus pandemic led to a flood of requests -- and counties were handcuffed by a commonwealth law preventing them from processing mail-in ballots until 7 a.m. on Election Day.
Philadelphia, the most populous city in the state that may decide the presidency, has reported a count of 186,486 of the 350,000 to 400,000 mail-in ballots that it expects. -- Mark Niquette
As Campaigns Keep Fighting, Twitter Referees (11:24 a.m.)
Twitter Inc. hid another tweet from Trump behind a warning label for violating the company's civic integrity policy Wednesday. It did likewise for a tweet from Wisconsin's Democratic Party chairman.
Trump's tweet, which claimed Democratic-controlled states had "surprise ballot dumps," can no longer be liked, and users can't comment on it. Twitter has a policy that forbids tweets that undermine election results. Trump also had a tweet hidden last night after suggesting Democrats were trying to "steal" the election. The same post about ballot dumps was also labeled on Facebook, though Facebook labels all posts that talk about voting and the election.
Earlier Wednesday, Twitter also hid a tweet from Ben Wikler, the chairman of Wisconsin's Democratic Party, which noted how Biden's tally had risen and declared that Biden had just won the state.
In a speech very early Wednesday morning, Trump called the election a "fraud" and an "embarrassment." He also suggested that he'd already won the election, which has not been called. "Frankly, we did win this election," he said. Twitter did not label that video despite a rule against candidates prematurely claiming victory. "Recordings or clips of the press conference on their own are not a violation of our policies," a company spokesman said, pointing out that many news organizations also carried the speech live and posted videos of it to Twitter. -- Kurt Wagne