Bukele Gains More Power With El Salvador Congress Landslide
(Bloomberg) -- Allies of President Nayib Bukele won a landslide in El Salvador congressional elections on Sunday, concentrating power in the 39-year-old leader and paving the way for a possible deal with the International Monetary Fund.
Bukele's Nuevas Ideas party and its allies appeared to have secured about two thirds of votes cast, according to a chart published with 80% of ballot sheets tallied. The graphic omitted the percentages obtained by each party.
Bukele said in a tweet that his party and the allied GANA party would get 60 seats, more than the 56 needed for a qualified majority. A majority in congress would remove the main check on the popular president's influence, and would make it easier for him to advance his agenda, issue debt and seek an IMF deal.
It would also alarm critics, including some U.S. lawmakers, who say the Central American nation is sliding toward authoritarianism. Since his election in 2019, Bukele has repeatedly clashed with the legislature, which until now had been controlled by his opponents, and last year he even sent troops into the building.
The Arena and FMLN parties, which dominated the country for decades, appeared to have fared poorly winning only about a quarter of votes cast between them. Turnout was 51%, the electoral authority said.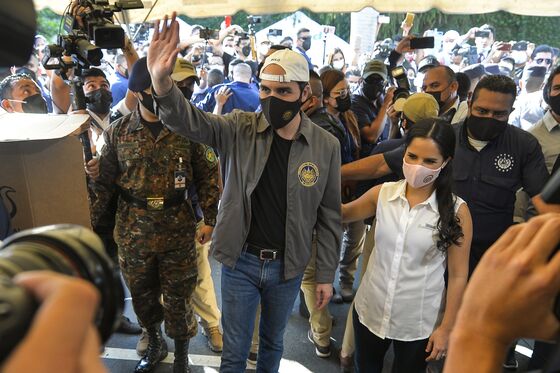 Investors are betting that with a strong result, the government will reach out to the IMF in the near future. An agreement with the Fund would likely include fiscal austerity to reign in a deficit that widened to more than 8% of GDP last year. Such a program would require approval from two-thirds of congress.
El Salvador's benchmark dollar bonds due in 2052 climbed by 0.7 cent to 105.73 cents on the dollar on Monday, the highest in almost six months.
Bukele's victory could also set the stage for constitutional changes, a worrisome development for critics who see him amassing excessive power.
Vice President Felix Ulloa has said he hopes to present constitutional reforms to congress later this year, which may include changes to presidential term limits. Under current law, reforms would require approval by two consecutive legislatures, meaning not until 2024.
Bukele's attacks on corruption, and on the conservative Arena party and the leftist FMLN have helped keep his approval rating around 90% since taking office. His government also boasted about its harsh treatment of jailed gang members, winning approval of some people in one of the world's most crime-ridden countries.