Economy Hands Edge to Senegal's Sall as Voters Go to Polls
(Bloomberg) -- Voters in Senegal went to the polls on Sunday as President Macky Sall looks to be shoo-in for re-election after overseeing years of high economic growth and the completion of gleaming new infrastructure.
Polling stations opened at 8:00 a.m. and are due to close at 6:00 p.m., with first results expected to trickle in by Tuesday.
"Macky has done a lot for us: look at the roads and schools," said Alassane Cisse, a 34-year-old car mechanic, as he stood in line to vote in the town of Fatick, where Sall was born. "Our future looks bright with him."
Since assuming office in 2012, Sall, 57, has managed to attract billions of dollars in investment, including from China, for his Emerging Senegal Plan that boosted growth to an average annual 6 percent. Projects such as highways, an express train for commuters and a new international airport in a city that's being built from scratch to ease congestion in the capital, Dakar, featured prominently in his re-election campaign.
"On paper, the incumbent Sall has the means to win with a comfortable majority," said Etienne Smith, a professor of political science at the Institute of Political Studies in Bordeaux. "He is a seasoned politician with the experience of successful campaigning. Besides, the economic context is rather favorable."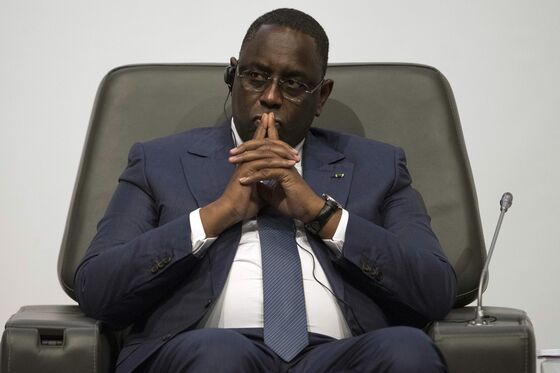 Investors snapped up Senegalese foreign currency bonds in the week before the vote, taking calm elections and policy continuation as a given in the only West African nation that has never experienced a coup. Sall supported a 2016 constitutional change that reduced the presidential term to five years from seven.
Still, the high pace of infrastructure development hasn't automatically translated in improved living standards, with almost eight out of 10 people saying the government hasn't created enough jobs, according to a 2017 Afrobarometer poll.
Critics have also accused Sall of manipulating the courts by the exclusion from the vote of former Dakar mayor Khalifa Sall, an opposition heavyweight until he was jailed for corruption last year. Macky Sall has denied any political interference.
Among Sall's challengers are ex-Prime Minister Idrissa Seck and former tax inspector Ousmane Sonko, who is popular with young voters after a campaign in which he pledged to wrest control of the economy from foreign companies.
Candidates need more than 50 percent of the vote to win the election, with a second round scheduled in a month's time if no one secures a majority.