ECB's Draghi Seeks Tougher Policing of $49 Trillion Shadow Banks
(Bloomberg) -- European Central Bank President Mario Draghi called for stricter scrutiny of investment funds and other firms in the shadow-banking industry.
Regulators have forced banks to become more resilient in the last decade, but the "next step will be to ensure that equally strong regulation and supervision" is applied to shadow banking, Draghi said in Frankfurt on Thursday. "Of course, one has to take into account the differences in institutions."
Banks responded to the crisis and the stiffer rules imposed in its aftermath by shrinking their balance sheets and pulling out of riskier businesses, such as long-dated loans and securitized products. Specialized investors that aren't subject to the same scrutiny have stepped in to fill the void.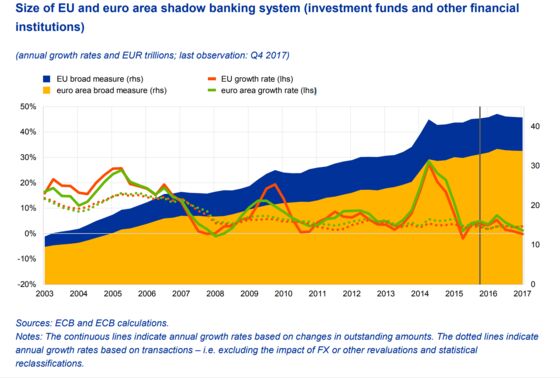 The European Union's shadow-banking system had total assets of more than 42 trillion euros ($49 trillion) at the end of 2017, and accounted for about 40 percent of the bloc's financial system, according to the European Systemic Risk Board.
Draghi told reporters that traditional lenders are "stronger today" than in 2008, citing higher capital levels and better risk management. Still, his top banking supervisor, Daniele Nouy, has said that several banks aren't sufficiently profitable and have yet to work through a pile of soured debt.