ECB Governing Council Nominee Rejected by Slovene Lawmakers
(Bloomberg) -- A candidate for the European Central Bank's Governing Council was rejected by Slovenian lawmakers in a vote that extended uncertainty over who will run the Balkan euro member's monetary authority.
It was the first major test of the minority government of Prime Minister Marjan Sarec, who vowed to sweep out elites from the country's top institutions before taking power in August. In a secret parliamentary ballot, acting Governor Primoz Dolenc won only 30 votes Tuesday, short of the majority he needed in the 90-seat assembly to lead the National Bank of Slovenia, whose chief also sits on the ECB's monetary-policy panel.
The result cements Slovenia's place among ex-communist countries that have no clarity on who will occupy their ECB seats, with Latvia's central bank governor fighting bribery charges and Slovakia's saying he might not finish his term. It was also a rebuff to President Borut Pahor, who tried to promote Dolenc after appointing him to the central bank as a vice governor in 2016. He called for candidates to submit new applications over the next three weeks.
"After evaluating candidates and consulting with parties' clubs in parliament, the president will submit the candidate to a vote in parliament as soon as possible," Pahor's office said in an emailed statement.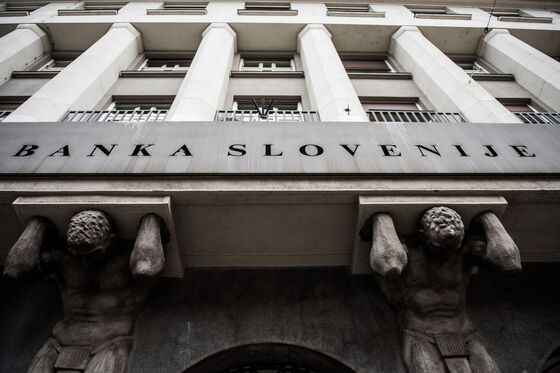 Slovenia is trying to find a replacement for former governor Bostjan Jazbec, who stepped down early in May, amid a police investigation into the central bank's role in a 2013 bailout of state-owned banks that cost taxpayers 3.2 billion euros ($3.7 billion).
The ECB criticized the investigation as an attack on the central bank's independence. It and the EU endorsed the rescue after years of mismanagement and political influence in the state-run lenders during which Slovenia, unlike most of its regional peers, had refused to sell its biggest banks to private owners.
Dolenc, who served as treasury director at state-owned Abanka dd from 2006 to 2008, said last month that if elected, he would step up efforts to make the Bank of Slovenia more transparent and to restore its reputation. He didn't respond to an email sent by Bloomberg to his account at the central bank Monday asking for comment on the opposition from some political parties to his nomination.
One of the tasks of the next governor will be to assess a push by a group of investors for a legal change that would allow them to recoup money they lost when the debt of the state banks including Abanka and Nova Ljubljanska Banka dd was written down in the bailout.
Besides Dolenc, the other candidates for the first round included his fellow Vice Governor Marko Bosnjak, as well as former Vice Governor Mejra Festic and Benjamin Josar, an executive at the privately-owned property manager Skladi Doo.