Eastern European Nations Face a Tougher Route to the Euro
(Bloomberg) -- For eastern European nations eyeing the euro, the goalposts just moved.
Bulgaria is the latest ex-communist country to set its sights on the single currency, getting the nod from the European Union last week to proceed with its bid. But it was forced to accept stricter conditions than past entrants. Euro-area finance ministers have indicated the new terms will still apply when the likes of Croatia and Romania follow suit.
Bulgaria meets the formal criteria for euro adoption and was hoping to apply to enter the common currency's waiting room -- known as ERM-2 -- this summer. But, after the turmoil of Greece's debt struggles and money-laundering scandals in recent euro entrants such as Latvia, the EU is taking no chances. To the irritation of Bulgaria's government, additional demands included cooperation with the bloc's banking union and steps to curb corruption.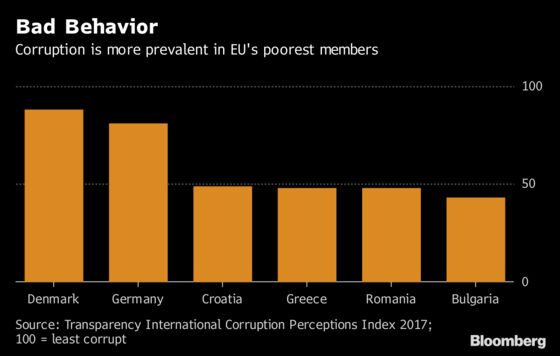 "In previous application bids, the euro zone turned a blind eye to institutional quality and governance, which in part caused the European debt crisis," Lorenz Unger, an analyst at BMI Research, said by email. "By tightening the accession criteria, issues related to bank supervision, institutional and real convergence have gained importance in a country's membership bid."
The new entry terms are almost certain to apply to Croatia, which reiterated last week that it's aiming to join ERM-2 by 2020. Speaking the day after the EU's announcement on Bulgaria, central bank Governor Boris Vujcic was unperturbed, calling euro membership the "natural next step" for Croatia.
Romania isn't as far along in its plans. And there are similar concerns there over graft, an issue that's keeping the two neighbors out of Europe's passport-free Schengen zone. Another worry for all three is the wealth gap with richer EU nations. The bloc is urging Bulgaria, its poorest member, to ensure sustainable economic convergence, a condition the Baltic states didn't explicitly face when they applied to join ERM-2.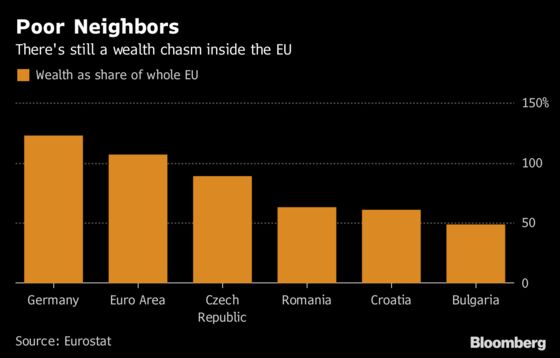 Bulgarian Finance Minister Vladislav Goranov submitted an application on Wednesday to join the banking union. That could take a year, and will include a health check of the financial sector by the European Central Bank before it assumes direct responsibility for supervision.
While the country's path to the euro has become trickier, Goranov is happy that there's now clarity on what's required.
"For the first time since we joined the EU, euro members have engaged with concrete deadlines and concrete decisions for Bulgaria's euro-zone perspective, written in black and white," he told reporters in Sofia. "This is a very positive sign."