East Europe Vaccine Skeptics Embrace Jabs as Cases Soar
(Bloomberg) -- Two eastern European countries struggling with low rates of vaccination against Covid-19 are seeing a sudden rush for jabs.
Previously skeptical populations in Ukraine and Romania are rapidly changing their minds as they endure the pandemic's deadliest wave yet. The situation is indeed dire: new infections and deaths continue to break records and lockdowns are starting to return.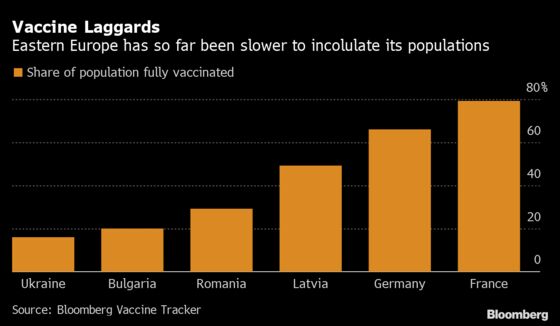 The worsening conditions prompted a record week of almost 1 million inoculations in Ukraine, which initially had difficulties in securing supplies of vaccines but later saw its citizens increasing wary about taking them.
That's left the former Soviet republic with coverage that's even less than Bulgaria, the European Union's least-vaccinated member state. The realization is hitting home. The national railway operator denied boarding to 175 passengers on Friday as restrictions came into force requiring they produce inoculation certificates. 
But it's next door, in Romania, that the deterioration in the virus situation is most evident. Images of overwhelmed hospitals and long lines of ambulances waiting for beds to free up have helped boost daily first-dose vaccinations to their highest since May.
With the government appealing to the European Union and the World Health Organization for assistance, Bucharest is holding a three-day jab "marathon" that will be open to anyone who comes, with no appointment necessary. More than 3,000 showed up on day one alone.
The hope is that the push alleviates pressure on the health system that's spilling over to funeral homes and morgues, with some local councils leasing excavators to dig extra graves.