East Europe Has Reason to Lift Interest Rates But Probably Won't
(Bloomberg) -- Terms of Trade is a daily newsletter that untangles a world embroiled in trade wars. Sign up here. 
The European Union's biggest eastern economies have something that's eluded their western neighbors for some time: a strong dose of inflation. But even as price growth bursts through official targets, central banks in the ex-communist region are loathe to raise borrowing costs.
Interest-rate decisions are due this week from Poland, the Czech Republic and Romania. All are likely hold fire to prioritize economic growth, which has slowed across the region though remains strong.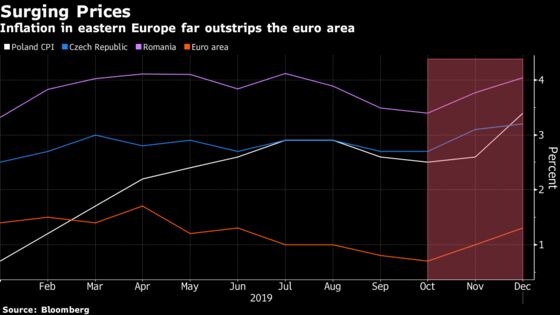 One-week reference rate: 1.5%
Inflation rate: 3.4% (December)
Polish economists described a recent inflation spike as "astonishing." Central bank Governor Adam Glapinski, however, appears determined to keep rates at a record low until his term ends in 2022. Jerzy Kropiwnicki, a fellow member of the Monetary Policy Council, said last month that raising borrowing costs when economic growth is slowing "isn't the best policy."
"High inflation will most likely continue to represent an opportunity for the hawkish MPC members to be more vocal about delivering a hike," Morgan Stanley economist Georgi Deyanov said. "But we think that unless Governor Glapinski changes sides, it will be difficult to achieve a majority for higher rates."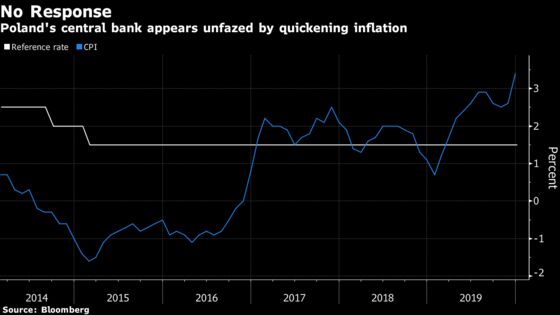 Two-week repo rate: 2%
Inflation rate: 3.2% (December)
The Czech central bank is one of the few in Europe still mulling tighter monetary policy, with several board members signaling February's decision could be close. Analysts surveyed by Bloomberg and money-market investors are convinced there will be no change, as worries about the export-oriented economy dominate.
The bank will be "very tempted" to raise rates at the upcoming meetings because of high inflation, according to Jan Vejmelek, chief economist at Komercni Banka AS. "On the other hand, the strong koruna combined with the unfavorable development in German industry and other persistent risks will offer strong arguments for keeping rates unchanged."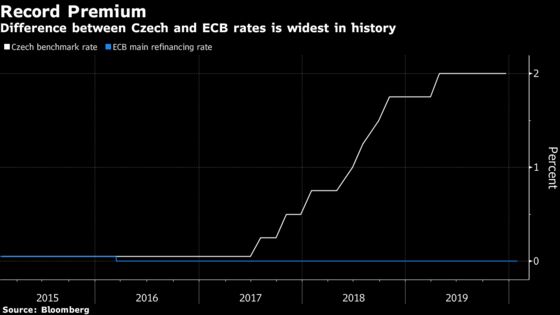 Benchmark rate: 2.5%
Inflation rate: 4% (December)
Despite inflation that's among the region's fastest, Romania's central bank is poised to extend its freeze on borrowing costs for a 14th meeting. In truth, rate-setters have more on their minds than just consumer prices: as well as the dip in economic expansion, the budget deficit has blown through EU limits and the current-account gap is also a concern.
The bank could even ease monetary conditions. Governor Mugur Isarescu has signaled a potential reduction in banks' minimum reserve requirements, to bring them closer to EU levels in a move that could happen as early as February.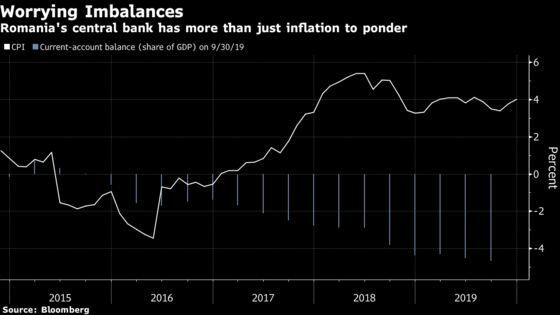 Czechs Flag Another Close Call on Rates After Inflation Surge