Duterte Skips Meetings With Moon, Morrison to Take 'Power Naps'
(Bloomberg) -- For Philippine President Rodrigo Duterte, sitting through eight straight meetings over 12 hours in Singapore proved a bit too much.
The 73-year-old leader missed four group sessions on Wednesday at a regional gathering hosted by the 10-member Association of Southeast Asian Nations. They included sit-downs with South Korean President Moon Jae-in and Australian Prime Minister Scott Morrison, as well as one with leaders to discuss a 16-nation Asian trade pact.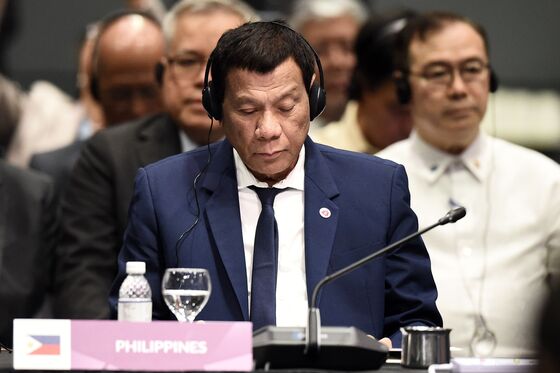 "He took power naps to catch up on sleep," spokesman Salvador Panelo said in a statement, adding that Foreign Secretary Teodoro Locsin represented Duterte at those events.
"We find it amusing that some quarters are making a big fuss of the president's skipping a few meetings," Panelo said. "We assure the nation that his aforementioned absence has nothing to do with his physical health and well being. The president's punishing work schedule is proof that he's in top physical shape."
Duterte last month announced he took medical tests to check for cancer, the results of which he said came in negative.
Duterte will participate in the rest of the Asean events including a bilateral meeting with Japanese Prime Minister Shinzo Abe. The Philippines leader also made sure he attended "important gatherings" such as dialogues where Abe, Chinese Premier Li Keqiang and Russian President Vladimir Putin gave an address.
From Singapore, the Philippine leader is schedule to travel to Port Moresby to attend the Asia Pacific Economic Cooperation summit in Papua New Guinea.