Duterte's Anti-Corruption Purge Now Revolving Door of Officials
(Bloomberg) -- Philippine President Rodrigo Duterte has taken great pride in firing nearly two dozen officials in an anti-corruption drive since he came to power two years ago. The catch: about a quarter have already been rehired.
Delivering on a promise to dismiss anyone on "just a whiff" of corruption, Duterte has sacked 21 officials and accepted the resignation of seven.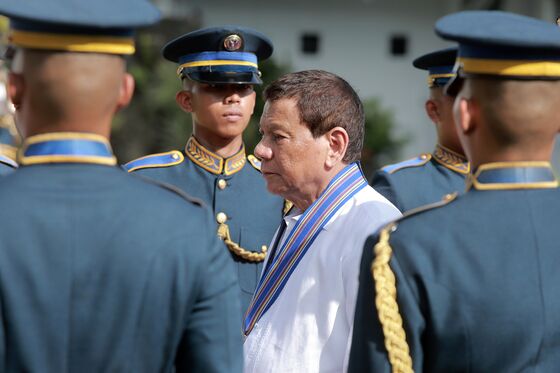 "If you go to the national government just to look for an opportunity for money, go look for another job. I will really fire you," Duterte told Department of Agrarian Reform employees on June 20. On June 14 he told local officials: "I will stop corruption. I have been firing officials left and right every day. Undersecretaries, chiefs of offices, education officials, all of them."
Pervasive corruption remains a significant barrier to trade and investments in the Philippines, the U.S. Trade Representative said in a report released in April. Under Duterte, the nation also ranked lower -- 111th out of 180 nations -- in Transparency International's Corruption Perception Index for 2017, compared to 101st in 2016.
Year
Philippines' Rank in
Corruption Perception Index
2012
105 out of 176 countries
2013
94 out of 177
2014
85 out of 175
2015
95 out of 168
2016
101 out of 176
2017
111 out of 180
Investors want to see courts and anti-corruption institutions strengthened to go after corrupt officials, Teneo Strategy managing director Bob Herrera-Lim said by phone. In Duterte's firing spree, all those accused of corruption, excessive travel and accepting bribes have so far gone unpunished. Seven have been rehired.
"If you're a foreign investor, you don't care about the internal politics," Herrera-Lim said. "You just want to know if people are investigated, if the system functions to see things through its natural conclusion."
Of those who left their posts, 12 were agency heads including tourism secretary Wanda Teo, who was accused of giving her siblings 60 million pesos ($1.1 million) to air television ads. Asked for comment on the allegations against her, Teo referred the question to her lawyer, who hasn't responded.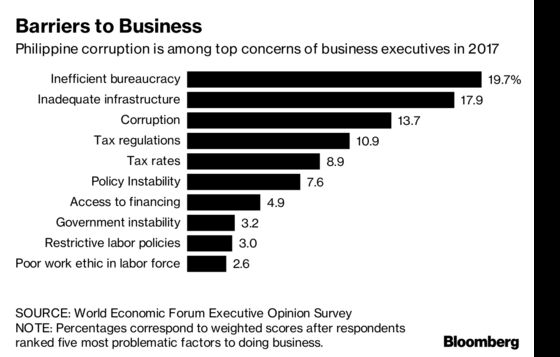 Duterte's given new jobs to at least seven officials who left their posts under a cloud of doubt.
That includes Nicanor Faeldon, who quit his post as head of the Bureau of Customs last year amid a scandal involving the smuggling of 6.4 billion pesos worth of crystal meth that dragged Duterte's eldest child Paolo. Faeldon, who was the subject of Senate, Justice and Ombudsman investigations, is now deputy administrator in the Office of Civil Defense. Faeldon did not respond when asked to comment on his reappointment, but denied bribery allegations in an earlier televised briefing.
Jose Gabriel La Vina, who worked on Duterte's social media campaign during the 2016 vote, has been reincarnated more than once -- first as Social Security System commissioner where he was alleged to have "abused" public funds, then as tourism undersecretary and recently, as agriculture undersecretary. La Vina said in a text message he will issue a statement addressing the fact that he was reappointed despite corruption allegations. In an earlier television interview he said he's never abused public funds.
Presidential spokesman Harry Roque said it was Duterte's executive prerogative to reassign people and this was "more the exception than the rule."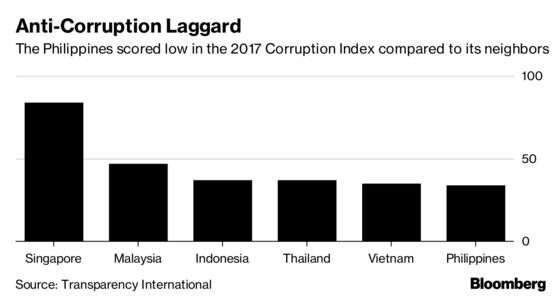 Duterte's decisiveness in firing alleged corrupt officials is a near-term positive step in a nation where courts have been slow in going after those accused, American Chamber of Commerce of the Philippines legislative chairman John Forbes said in an interview.
"It seems that when he gets reports on corruption, he doesn't even wait to investigate," Forbes said. "How can he send a stronger signal than that?"
Others take a dimmer view.
The government is like a "merry-go-round of appointments and abuse", Ronald Mendoza, dean of the Manila-based Ateneo School of Government, said via email.
He warned corruption scandals may pull down the president's waning popularity, noting it remains to be seen "whether the people will associate corruption with key officials only, or begin to link these to the president himself." Results of second-quarter popularity polls are due soon.
And although the situation had improved slightly in the private sector, petty corruption remains pervasive, said Eufracia Taylor, senior Asia analyst at global risk consultancy Verisk Maplecroft. "Despite government's efforts, the culture of corruption appears unchanged, and the issue continues to rank highly in foreign investor concerns in the country."