Durbin Seeks Early Judiciary Action on Bill to Help 'Dreamers'
(Bloomberg) -- Incoming Senate Judiciary Chairman Dick Durbin says he wants quick action on a measure to provide a pathway to citizenship for young undocumented immigrants in a limited initial attempt to alter U.S. immigration policy under the Biden administration.
Durbin said he and Senator Lindsey Graham of South Carolina, the top Republican on the committee, should soon reintroduce the "DREAM Act" aimed at aiding immigrants, often known as Dreamers, who were brought to the U.S. illegally by their parents as young children.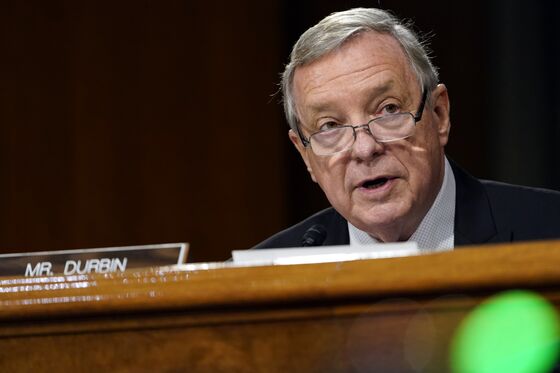 He's also talking to Republicans about whether they would consider other provisions, particularly one to prevent immigrants in the U.S. legally under humanitarian protections from being deported after a federal court decision last year.
"It is tricky territory, when you consider leaving the Trump administration, which was totally antagonistic toward immigration, and trying to enter into a new school of thinking," the Illinois Democrat said. "There are some things I think are likely to be included, and some things which will be too much of a reach."
Durbin's comments are the latest indication that President Joe Biden's drive for a broad immigration overhaul is running into snags. Graham and other Republicans are balking at various provisions and the absence of big spending on border security.
Durbin said he's seeking a bipartisan coalition to move soon on a more limited approach. He said he's hopeful that after the border security investments made during the Trump administration, it will be easier to find at least some Republicans willing to work on a limited initial agenda.
"I hope we're beyond the wall hysteria, where we were diverting funds from military families to build the wall, and really thinking about border security in a more mature way," Durbin said of U.S.-Mexico border barrier that was President Donald Trump's signature policy.
The DREAM Act aims to protect about 800,000 young immigrants from deportation and create a pathway to citizenship for them. Durbin said that's particularly needed after a Texas judge this week granted a temporary stay on the Biden's administration's 100-day moratorium on deportations.
He also pointed to actions that have other immigrants at risk. For example, a 2020 ruling by the U.S. Circuit Court of Appeals in California put immigrants from El Salvador, Haiti, Honduras Nicaragua, Nepal and Sudan at risk of deportation. And those with Temporary Protected Status under a program established in 1990 may be ordered to leave the U.S. this spring, although legal wrangling continues.
"Many of those people are facing the expiration of their temporary protection and they need a response as quickly as possible," Durbin said. "They are not alone in terms of the classes of people in the United States who are affected by a broken immigration system."
Senator Robert Menendez, a New Jersey Democrat, plans to introduce a far more comprehensive measure that reflects Biden's plan, but Republican leaders in both chambers have declared it dead on arrival.