DUP Still Has Objections to Brexit Deal After Talks With May
(Bloomberg) -- The Northern Irish political party which props up Prime Minister Theresa May's government said it still has "principled objections" to her Brexit deal, less than a week before it's resubmitted to Parliament for approval.
May last month deferred a parliamentary vote on the terms she negotiated with Brussels, acknowledging she didn't have the support to pass it. The vote has been re-scheduled for the week of Jan. 14, and the premier is in talks with Northern Ireland's Democratic Unionist Party as well as European leaders to find a breakthrough before lawmakers debate the agreement from Wednesday.
The main sticking point for the DUP -- as well as for some lawmakers in May's Conservative Party -- is the so-called Northern Ireland backstop, a provision to ensure the U.K. border with Ireland remains open even if Britain and the EU fail to negotiate a trade deal by the end of 2020. Critics argue it would trap the U.K. in the bloc's customs union indefinitely, and impose barriers between Northern Ireland and the rest of the country.
The deal "flies in the face of the government's commitments on Northern Ireland as we leave the EU," DUP deputy leader Nigel Dodds said in an emailed statement following lunch with May on Thursday. The DUP will have "further discussions with the prime minister and will continue to work with the government in the interests of getting a better deal," he said.
May had phone calls with other EU leaders during the Christmas break, and has had more this week. Nevertheless, her office said on Monday there was "still work to do" to get the assurances on the backstop she has said are needed to win the support of Parliament for her deal.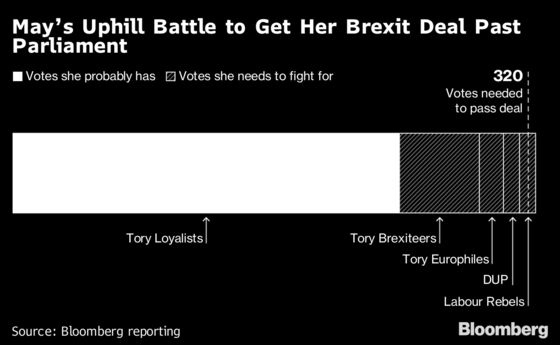 If the deal doesn't get through Parliament, the default option is for the U.K. to exit the bloc on March 29 without an agreement, and the government has been stepping up no-deal preparations. Brexit Secretary Stephen Barclay on Thursday hosted a meeting of junior ministers from most government departments to bring them up to date on developments since before Christmas.