Draghi Meets Italy President After Gaining Main Parties' Backing
(Bloomberg) -- Italy's Premier-designate Mario Draghi is meeting with President Sergio Mattarella Friday evening in Rome and is set to accept a mandate to form Italy's next government after winning a broad parliamentary majority.
Draghi, a former head of the European Central Bank, is in the coming hours expected to unveil the list of ministers for his cabinet, which is set to include Roberto Cingolani of Leonardo SpA as head of a new green ministry.
Members of Five Star , a party with anti-establishment roots that's long denounced bankers and technocrats, voted online by 59% in favor of backing Draghi. Members were asked whether they wanted the movement to support a Draghi-led government which would place strong emphasis on green policies.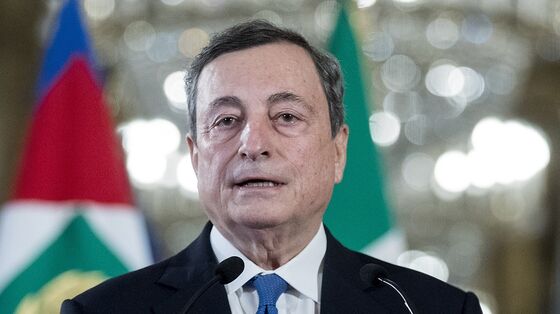 Draghi has now put together a parliamentary majority which also includes the center-left Democratic Party and the anti-migrant League of Matteo Salvini.
Cingolani, chief technology and innovation officer at technology company Leonardo SpA, is set to head the ministry for ecological transition, according to people familiar with the matter. The ministry will be responsible for managing spending on green projects under the European Union's recovery package.
Five Star urged Draghi to create the ministry in talks earlier this week. Cingolani, who's also a Ferrari NV board member, declined to comment via Leonardo's press office. A representative for Draghi did not immediately reply to a request for comment.
In his meetings with party leaders Draghi has prioritized countering the pandemic and kick-starting Italy's vaccination campaign, reviving the economy using the country's 209 billion-euro ($254 billion) share of the EU package, and pushing for a common euro-area budget.
Five Star's online vote exacerbated tensions within the party, with Alessandro Di Battista, one of its most prominent members, saying after the outcome was announced that he'd leave the movement. As many as ten Five Star lawmakers could follow suit, Corriere della Sera reported Friday.
Numerically, Draghi does not need Five Star in order to govern, though the party's support will allow him to build wide consensus across the political spectrum. Once he's presented his ministerial choices to Mattarella, it's up to the head of state to formally appoint them.