Draghi Warns Against Breaking Rules Amid Italian Bond Selloff
(Bloomberg) -- Mario Draghi told European Union leaders that questioning the bloc's rules can worsen financial conditions and damage growth, according to an official familiar with his remarks, which are likely aimed at Italy's budget dispute with the EU Commission.
The European Central Bank president's warning, delivered at a summit in Brussels on Thursday, comes as Italy gears for a standoff with the EU's executive arm over concerns that the country's budget will breach the bloc's fiscal rules. The gap between Italian and German bond yields has widened to the highest since 2013, when the region was just coming out of a sovereign debt crisis, raising questions over the sustainability of the country's public finances.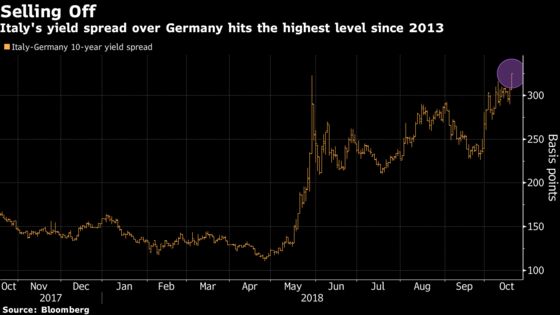 Draghi told EU leaders that the euro area's economic outlook is positive but that the horizon "has turned a little bit darker,'' according to the official. Among the global risks he identified are Brexit and an escalation of trade tensions, the effects of which are already seen on investment confidence.
The summit was originally seen as an occasion for leaders to look at efforts to strengthen the euro area so that it can better withstand future crises. But concerns over Italy's spending plans cast a shadow over the discussion, with leaders urging the European Commission to ensure it implements the bloc's rules.
Undermining those requirements will carry a high price tag for all actors, Draghi said, adding that they must be respected in the interest of all parties, especially the weaker ones.