Draghi's Man in Rome Is Plotting for Peace With the EU
(Bloomberg) -- Behind Italy's spotlight-seeking deputy premier, Matteo Salvini, a key party strategist is plotting for peace with the European Union and foreign investors.
While Salvini is threatening to hijack the EU agenda as the dispute over Italy's 2019 budget heats up, his closest adviser is trying to steer the populist coalition away from a head-on clash with Brussels, according to senior government and League officials who asked not to be named discussing confidential matters.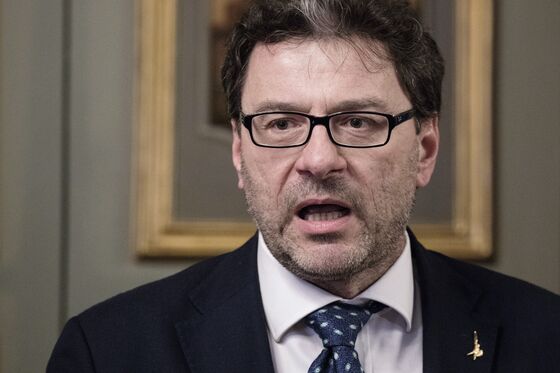 The escalating rhetoric between Rome and the rest of the EU might suggest Cabinet Undersecretary Giancarlo Giorgetti's campaign is struggling. But party colleague Massimiliano Fedriga says that 51-year-old Giorgetti is playing a long game shaped by his humble upbringing as a fisherman's son in northern Italy.
"When you fish you need to wait and you need to be consistent," Fedriga recalls Giorgetti advising him. "Politics is the same."
That quiet authority has made Giorgetti a mentor to some League lawmakers and a go-to figure for policymakers seeking guidance on where the populist coalition in Rome is heading. European Central Bank President Mario Draghi and Bank of Italy Governor Ignazio Visco are among those with a line in to Giorgetti, according to government and League officials.
When Draghi visited Rome in the midst of last month's budget negotiations, Giorgetti was the final appointment on his agenda, Rome newspaper Il Messaggero reported.
To colleagues like Guglielmo Picchi, undersecretary at the Foreign Ministry, Giorgetti drums home the lesson that a politician's power can be fleeting and only real achievements ultimately matter.
"You have to do more, not talk more," Giorgetti told lawmakers at a meeting Picchi attended. "People vote for you for what you've done, not for chit-chat."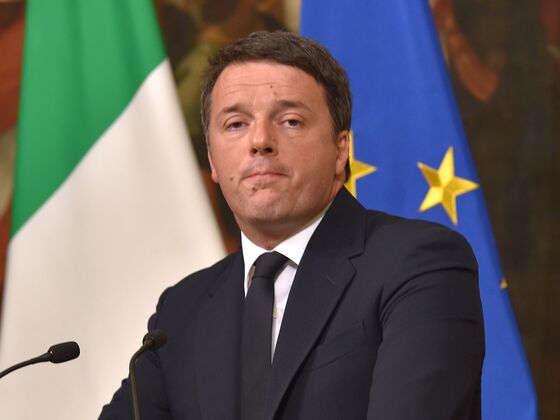 To drive home the message, he has advised League lawmakers to put on their desks a photograph of Matteo Renzi -- who resigned as premier only two years after winning more than 40 percent in 2014's European Parliamentary elections.
"Giorgetti is a wise man for us, because of his experience and his excellent relations in the economic and financial sectors," said Massimiliano Romeo, head of League senators.
A long-time friend, who asked not to be named, said he couldn't recall Giorgetti quarreling with anyone in politics.
Giorgetti has been a League activist since the group's beginnings as a fringe movement advocating independence for the northern Padania region, and he has seen its transformation from a separatist party to a nationalist movement since Salvini became leader in 2013.
In November 2011, he had a front-row seat as head of the lower house budget committee when EU budget concerns and mounting bond yields toppled the Forza Italia-League government led by Silvio Berlusconi. Then 10-year yields went to more than 7 percent and they have surged again in recent months due to the budget tensions, though they are still barely half the 2011 level.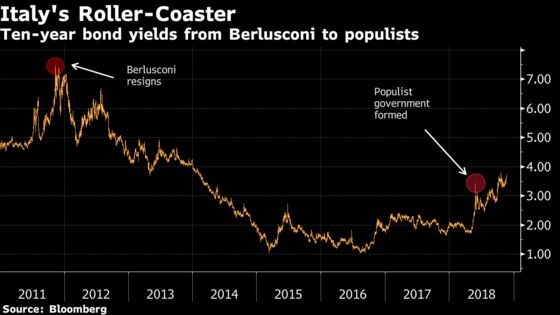 In the struggle over Italy's budget policy, Giorgetti's objectives are in line with the establishment figures who want to temper the government's more extreme impulses, the officials said.
Giorgetti argued for limiting next year's deficit target to 2 percent at a meeting in late September chaired by Prime Minister Giuseppe Conte with Finance Minister Giovanni Tria and other senior officials, according to one of those present. Giorgetti told them this target would be accepted by Brussels, and by financial markets, though that idea was killed when France set its own deficit at 2.8 percent soon after.
In recent weeks Giorgetti has been pushing for a slower start to pension and welfare reforms to lower the 2.4 percent target that has exasperated the European Commission, the officials said.
But while he's in line with President Sergio Mattarella, Tria and Foreign Minister Enzo Moavero Milanesi he also retains the confidence of apparent hardliners like Salvini, offering not so much a counterweight to the populists, as another side to their character.
"Giorgetti is the linchpin between two different worlds -- the League and the establishment -- which don't usually speak to each other," Picchi said. "Salvini and Giorgetti are complementary -- Salvini is exuberant, Giorgetti is silent and meditative."