Italy's Conte Signals Lukewarm Support for Draghi-Led Government
(Bloomberg) -- Italy's outgoing Premier Giuseppe Conte signaled his lukewarm support for Mario Draghi's attempt to succeed him, as the former European Central Bank governor prepares for talks with party leaders.
Conte, who stepped down after ex-premier Matteo Renzi pulled the plug on his administration, called for a "political government" rather than one made up only of technocrats. He also denied Italian media reports that he was working to stop Draghi.
"I will always work for the good of the country and so that a new government can be formed to resolve health, economic and social emergencies," Conte told reporters outside his official Rome residence.
Earlier Thursday, Renzi told Bloomberg Television's Francine Lacqua he is confident that Draghi can form a new administration as soon as next week. Draghi will begin meetings with political parties Thursday afternoon, after President Sergio Mattarella asked him to try to form a new administration.
Conte could help the Five Star Movement, the biggest force in parliament, shift toward supporting Draghi. The former anti-establishment group, which has long railed against technocrats, is divided, and Conte is one of the few figures that unites most of its members.
Italian bonds gained for a second day, with the 10-year yield dropping three basis points to 0.56%. The premium over their German peers, a key gauge of risk in the country, hovered just above 100 basis points, the lowest level since 2016.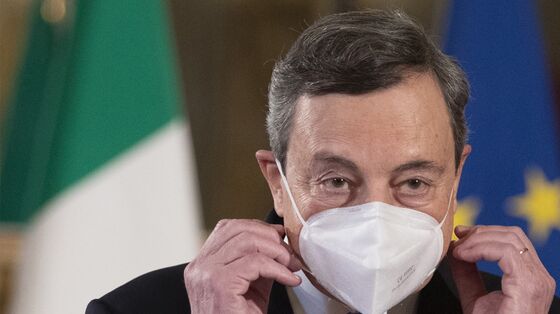 "Mario Draghi is the best man to be prime minister, he saved Europe, he will save Italy," said Renzi, who mentioned the coronavirus pandemic and the country's severe recession. "Draghi will have a vote of confidence probably next week and will be able to write a recovery plan."
Draghi for the moment lacks a parliamentary majority, with several political groups saying they first want to see what his program looks like. He has highlighted the pandemic, the country's vaccination campaign and a relaunch of the economy along with the European Union's recovery package as his priorities.
In addition to Italy Alive, Draghi can count on support from the Democrats and centrist, pro-European groups.
The Draghi mandate "goes in the direction we've advanced for weeks," ex-premier Silvio Berlusconi of the center-right Forza Italia said in a statement Thursday.