Draghi Coalition at Risk From Italy President's Retirement
(Bloomberg) -- Italy's president, Sergio Mattarella, said he's looking forward to retiring next year, potentially upsetting the delicate political balance that keeps Prime Minister Mario Draghi's coalition stable.
"My term as president ends in eight months," Mattarella, 79, said while visiting a school in Rome on Wednesday, according to news agency Ansa. "I am old and in a few months I'll be able to rest."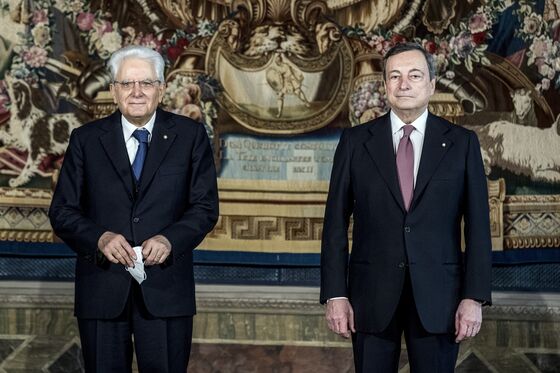 Matteo Salvini, leader of the right-wing League which has been topping the polls for years, seized on Mattarella's words to reaffirm his support for Draghi as Italy's next president.
This would force the former central banker to relinquish the premiership and most likely trigger early elections with Salvini starting as favorite to take over.
Draghi, 73, was chosen to head a national unity government early this year to help the country out of the coronavirus crisis and, with the next election due by 2023, he himself has often said he has "little time" to get all his reforms done. Many analysts had nevertheless expected Mattarella to be re-elected next year, providing stability for Draghi to see out the full parliamentary term.
"Mattarella is pushing back against a possible longer term for his presidency, but the road to his retirement is still long," said Giovanni Diamanti, a partner at political consultancy YouTrend. "Draghi's coalition is so broad that it will be hard to find political agreement over a new president and in less than a year Mattarella could be left as the only option."
Even if Draghi doesn't accept a nomination to become head of state, the risks to his government would increase with Mattarella off the scene. The president has been a mediator and guarantor for Draghi's complex and disparate coalition which includes parties of the left and right as well as Salvini's League and the Five Star Movement.
Any change could easily upset that balance. Early elections would destabilize the country as it looks to rebuild from the biggest economic crisis since World War II by ensuring European Union aid money is effectively spent.