Bogota Explodes in Anti-Police Riots After Tasered Man Dies
(Bloomberg) -- Eight people were killed in protests against police brutality in and around the Colombian capital of Bogota overnight, triggered by a widely-shared video of officers repeatedly tasering a man begging for mercy while onlookers filmed and urged the police to back off.
More than 20 police stations were torched, buses were destroyed and banks attacked. The tasered man, Javier Ordonez, who is heard murmuring "Please, no more" while armed officers overwhelm him, died several hours later.
The clip was reminiscent of the events around the death of George Floyd during an arrest in Minneapolis in May, which began months of protests across the U.S. Before Covid-19, demonstrations had been spreading in Colombia, some of them focused on police abuse.
Some 114 police officers and 248 civilians -- 58 by firearms -- were injured in last night's unrest, Colombian authorities said.
Colombia's Inspector General's Office said it is opening an investigation into Ordonez's death. Two officers involved have been suspended. Semana magazine said the man was a 43-year-old lawyer and father of two.
More demonstrations and protests are planned for Thursday.
"Unless there is the announcement of new and different measures in terms of trying to control the police and to try to avoid confrontations with citizens, we are going to see new cycles of disturbances," said Jorge Restrepo, director of CERAC, a Bogota-based research institution that monitors the nation's civil conflict.
President Ivan Duque, a conservative, has spoken out against abuse by police but the government called for Colombians not to stigmatize law enforcement officers.
Bogota Mayor Claudia Lopez, who is left-leaning, was more pointed in her criticism. She slammed the "absolutely indiscriminate and disproportionate use of force" by the police, and has called for "exemplary punishment" and "a structural reform that prevents and sanctions police abuses."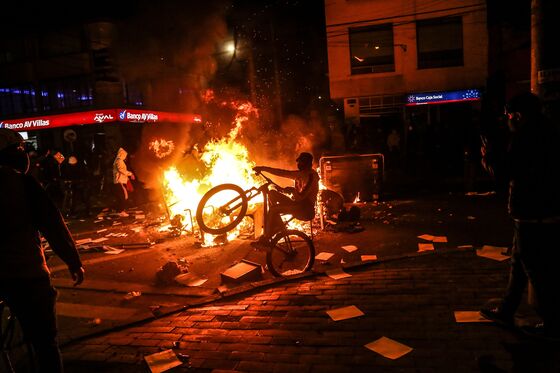 Last night's mayhem and the government's perceived lack of empathy with the victims of police violence will end the bump in popularity that Duque got for his handling of the pandemic, and make it harder for him to govern, Restrepo said.
The demonstrations last November, which started as a broadside rejection of Duque's agenda, gained steam and ended up lasting for weeks after a teenager in Bogota was killed at the hands of anti-riot police.
"The protests from last year had unresolved and serious differences with the government," said Sergio Guzman, director of Colombia Risk Analysis, a Bogota-based consultancy. "The Covid-19 pandemic put a lid on much of that movement, but the problems continued brewing and the social unrest was just waiting for a trigger."
The disturbances will "throw a wrench in many of the government's plans" such as labor and pension reforms, he added.
Bogota had been slowly returning to normal after measures to curb the coronavirus pandemic were eased this month. The lockdowns led to Colombia's deepest economic slump in more than a century, causing the urban jobless rate to soar to nearly 25%, potentially making the situation more combustible.