Down But Not Out May Facing Another Big Vote
Where do we go from here?
Imagine Brexit as a chess board: Prime Minister Theresa May the vulnerable yet stubborn white king, opposition leader Jeremy Corbyn the black knight who can't deliver checkmate.
That's probably the best way to explain the paradox the U.K. finds itself in. May yesterday was dealt the biggest parliamentary defeat in modern history on her deal to leave the European Union. Even so, she'll probably survive today's  vote of confidence in her government called by Corbyn's Labour party.
In normal times, a leader who poured all her energy into a divorce deal that's almost universally disliked wouldn't still be in power. But more than two years after a closely-fought referendum on exiting the EU, and with 10 weeks to the stated departure date, no one knows how to get an agreement done.
Competing interests in a hung parliament on what Brexit should look like (and some don't want it at all) have turned the debate into a morass, with little sign the EU is inclined to help clear a path.
People thought they were making a simple choice back in 2016: In or out. The reality has proven different.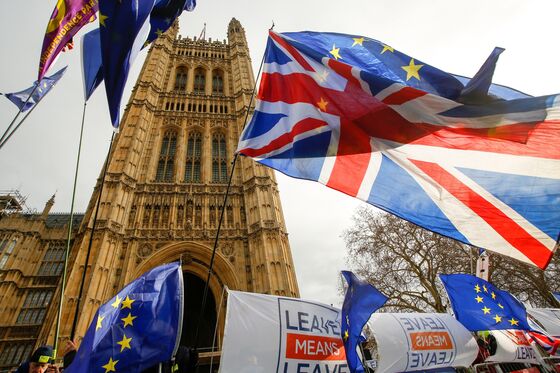 Party of one | U.S. President Donald Trump's attempt to bypass Democratic congressional leaders on shutdown negotiations fell flat as he failed to persuade any rank-and-file members to attend a hastily arranged White House meeting. Trump, who has ordered thousands of federal employees back to work without pay, was seeking to peel away some Democrats from Speaker Nancy Pelosi. It underscores the gulf between the parties as the longest shutdown in modern history stretches into its 26th day.
Swedish relief | After more than four months of limbo Sweden looks set to have a government by the end of the week, with Social Democratic leader Stefan Lofven convincing the Left Party to support a centrist administration. That would shut nationalist politicians out, but the result would be a fragile coalition for the former union leader, who has agreed to cut taxes and ease labor market rules. 
Africa's jihadists | The Islamist militant attack that killed at least 14 civilians yesterday in Kenya's capital highlights the jihadists' ability to strike across Africa. Islamic State and al-Qaeda-allied fighters are carrying out almost daily assaults in Somalia in the east and Nigeria and Mali in the west, and a loose coalition of African, Western and United Nations troops shows little sign of being able to dent the advance.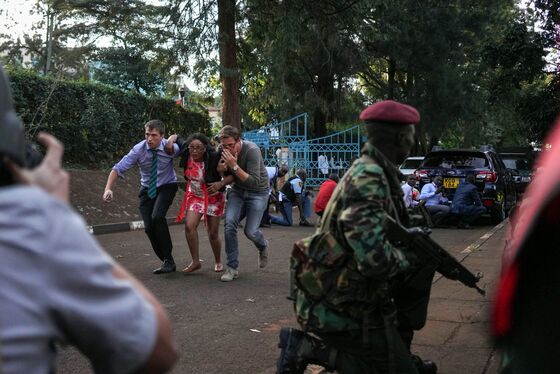 Dysfunctional relations | After a diplomatic snub, conflicting messages and a threatening tweet, Trump and Turkey's Recep Tayyip Erdogan sought to smooth over their differences in a phone call this week. But as Selcan Hacaoglu writes, divergences between the NATO partners remain on issues from ties with Iran and a missile defense system to opposing attitudes to Kurdish fighters in Syria.
Herculean task | Rallying around a little-known lawmaker, Venezuela's opposition is stirring for the first time since President Nicolas Maduro crushed mass protests in 2017. Juan Guaido, the new head of the defanged National Assembly, has won support from regional leaders and Trump – but faces a challenge to unite a fractious opposition at home and motivate a beaten-down populace.
Finding a challenger | The potential for the biggest field of Democratic presidential candidates in a generation has party members in Iowa bracing for a wide-open race that will spread millions of dollars across the state, due to hold the first caucuses for a presidential nominee in February 2020. But uncertainty about the plans of a few potential top-tier candidates has stalled preparations, John McCormick reports.

What to Watch
New York's Alexandria Ocasio-Cortez, the freshman congresswoman who has become a sensation among progressives, will almost certainly join the U.S. House Financial Services Committee after a group of fellow Democrats recommended her for the post.
Trump attorney general nominee William Barr's Senate confirmation hearing continues, a day after he vowed to protect Robert Mueller's Russia investigation from political interference but said he – not Mueller – could ultimately write the public version of the special counsel's findings.
And finally…One would have to go back to 1979 for something as dramatic as what May faces today in parliament. Prime Minister James Callaghan's Labour minority government had survived a few confidence votes, but on the night of March 28 it ran out of luck — losing by just one vote (one lawmaker was too ill to attend). The main beneficiary? A certain Margaret Thatcher who went on to win three general elections. Labour would not return to power for close to two decades.