Don't Look Now, But Italy's PD Party Is Inching Up on Five Star
(Bloomberg) -- What a difference a year makes. On March 5, 2018, Italians woke up to learn that the upstart Five Star Movement was their country's biggest political party, with almost twice as many seats in parliament as the defeated Democrats, or PD.
Now, a mere 12 months later, support for the populist party led by Luigi Di Maio is in free fall, while the Democrats (once led by Matteo Renzi, remember him?) are mounting a comeback, as left-leaning voters abandon Five Star and reconsider a rebranded PD led by new leader Nicola Zingaretti.
An SWG poll aired March 4 by La7 television gave the PD 19.8 percent of support, up from 18.5 percent on Feb. 25, and more than the 18.7 percent the party got in the general election last year.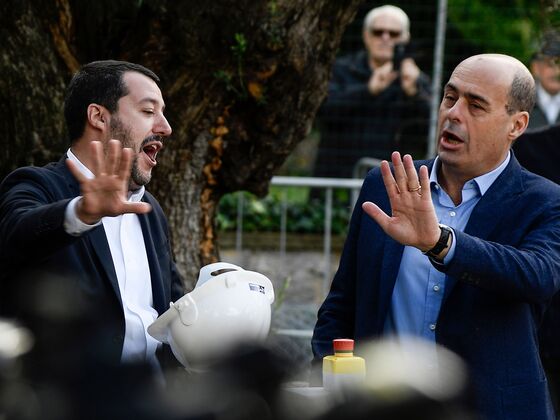 Meanwhile, Five Star's steady decline continues. The party was at 22.1 percent in the SWG survey, down from 22.6 on Feb. 25. Those numbers point to an outright hemorrhaging of support, given the 32.7 percent the insurgent party scored in the general election.
One poll, a March 2 Tecne' survey, even gives a center-left bloc led by the PD more support than Five Star.
PD voters appear to be rejuvenated: on Sunday more than 1.5 million of them cast ballots in an internal vote that elected Zingaretti as new party leader in the run-up to the May European Parliament elections.
All of this ignores the real political force in the country: Matteo Salvini's League. The anti-migrant party, which shares power with Five Star, continues to build its support. The League rose to 33.4 percent in the SWG poll, from 33.2 percent the previous week. Salvini's party took 17 percent in the March 2018 national election.