A Divided Congress Could Put the Dollar's Bull Run at Risk
(Bloomberg) -- The dollar's bull run against major currencies could come to an end in 2019 after the Democrats took the U.S. House from the Republicans in the midterm election.
While the outcome was largely expected, analysts at Morgan Stanley and Credit Agricole SA say it could lead to a gridlocked government during the rest of U.S. President Donald Trump's term, undermining efforts to extend tax cuts and boost infrastructure spending. This could weigh on the greenback, which has outperformed all Group-of-10 peers so far this year.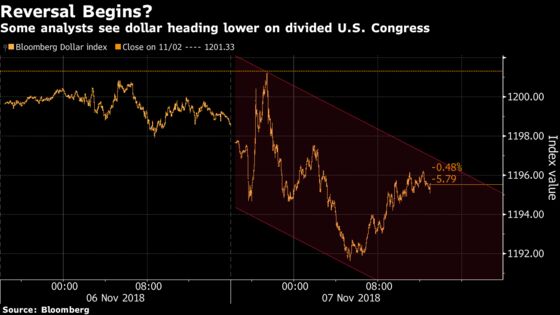 For Treasuries, the result is likely to herald lower yields as the market moves to price out further stimulus, according to analysts. Here's a roundup of analyst views on what's to come for the dollar and Treasuries:
Bank of America: Dollar Longs Reevaluating
A split Congress is moderately bearish for the dollar as "the first order effects of U.S. growth deceleration and increasingly-limited monetary policy support cause a reevaluation of long USD exposure," strategists including David Woo write in a note to clients
Second-order effects could limit dollar downside, but markets likely to focus on first-order effects for now, according to strategists
"Acrimony" in Washington DC could lead to higher risk premium for the currency and gridlock may limit policy action to the bare minimum of keeping the government funded and raising debt ceiling
Interest-rate support for dollar is skewed to downside, market expectations for Fed hikes at risk of compression and a move above neutral looks "increasingly less likely"
Split Congress unlikely to materially alter Fed's near-term hiking path
Morgan Stanley: Bearish Dollar
Result "supports our longer-term dollar bearish thesis," write currency strategists including Hans Redeker
See EUR/USD rallying and USD/JPY weaker, as Europe and Japan perform better and FX-unhedged positions shift back to home countries
"Democrats taking control of the House effectively halts any further progress of the Republican agenda, but does not invite investors to consider meaningfully higher probability of Democratic priorities being enacted beyond 2020," strategists including Meredith Pickett wrote in a research note
Treasuries are likely to be supported in near term as market "probably got ahead of itself" in pricing in a higher probability of Republicans holding the house and implementing more tax cuts
However, see the possibility of an unfunded infrastructure spending plan, with the next couple of weeks "critical to forming a more substantive stance on this issue and whether or not it will impact Treasury markets"
Credit Agricole: Weaker Dollar

The Democrats' win in the House "should lessen the prospect of any meaningful new fiscal stimulus, while the Trump Administration's protectionist stance should remain largely unchanged," Credit Agricole analysts including head of G-10 currency strategy Valentin Marinov write in a report
"Thus, the past boost to U.S. growth from earlier fiscal measures should fade, reinforcing our outlook for a weaker dollar over time"
Post-election USD sell-off has "likely been more timid than many investors anticipated," wrote Todd Elmer, senior G-10 currency strategist

Any further dollar weakening on election likely to be short-lived as investor appetite to chase the move may be low, midterms do not historically mark a break in currency trends, policy levers for USD depreciation are weak, and dollar-positive implications from the elections may be underplayed

Dollar sell-off ultimately present an opportunity to re-enter longs
Sees limited scope for dollar selling to extend and favors buying on the dip
MUFG: EUR/USD Support at 1.13
"This is no 'blue wave' and no resounding rejection of President Trump that many Democrats were expecting -- that will certainly limit the initial decline of the dollar on this result," say strategists Derek Halpenny and Fritz Louw

"It reduces the prospect of any near-term breach of the 1.1300 support level against the euro"

"We can now forget about the prospect of additional fiscal stimulus," but "Trump's direction in regard to trade policy and China may not change at all"
BMO Capital Markets: Flatter Curve
"In general, the passage of a risk event this time around may not translate into higher yields, as the Treasury market appeared most concerned about a bearish surprise in rates," wrote strategist Jon Hill
Return to political gridlock will likely temper growth expectations or moderate the prospect of additional stimulative fiscal policy

Don't anticipate this to dissuade the Fed from continuing to deliberately tighten monetary policy as other areas of the economy maintain very strong momentum

See curve moving flatter from here, with any breach above 26.4 basis points on the 2s/10s clearing the way for a new challenge of the cycle flat of 18.3 basis points in coming weeks
Danske Bank: Still Sees 3.5%
"We still expect 10-year Treasuries to move toward 3.5 percent in three to six months," wrote strategists including Arne Lohmann Rasmussen

Knee-jerk reaction to the result might be a modest support to U.S. Treasuries and slightly lower yields, as risk of bigger budget deficit and subsequent tighter monetary policy should somewhat abate; any support is expected to be short-lived

Still looks for euro-dollar to move below 1.13 before year-end

Dollar set to enjoy continued support from U.S. cyclical and carry outperformance
Toronto-Dominion: EUR/USD Floor at 1.13
"The double bottom at 1.13 in EUR/USD now looks like a pretty solid floor for the time being," says Ned Rumpeltin, head of foreign-exchange strategy

"The Democrats underperformed in the Senate but not to a game-changing degree -- it is likely to be a slow-burn story for the dollar"

"We are likely to revert back to the 1.16/1.18 trading range that has prevailed for much of the last 6 months or so"
Wells Fargo Investment Institute: Pressure on Dollar
A massively reduced chance of "tax reform 2.0" and the possibility that the earlier reform is not made permanent put pressure on the dollar to weaken, Paul Christopher, head of global market strategy said in a call
Still, there's a chance that Italian budget disputes and Brexit negotiations could impact the dollar higher by being negative for other currencies