DOJ's Rosen Warns Against Violence Around Biden Inauguration
(Bloomberg) -- The Justice Department issued a video warning against violence in the days leading up to and during the inauguration of President-elect Joe Biden, including against rioters trying to occupy government buildings.
"We will have no tolerance whatsoever for any attempts to disrupt the peaceful transfer of power on Jan. 20 that our Constitution calls for," Acting Attorney General Jeffrey Rosen said in a video statement released on Wednesday.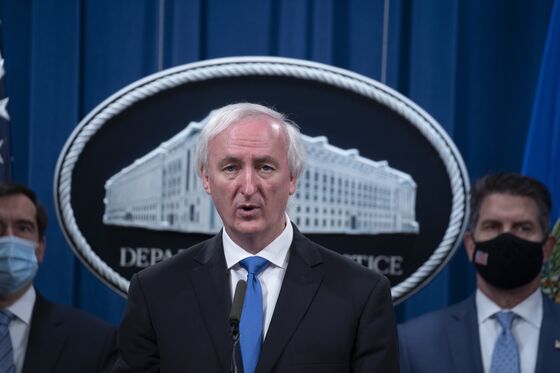 It's the first time the nation's top law enforcement officer has spoken out on camera since supporters of President Donald Trump laid siege to the U.S. Capitol on Jan. 6.
"We will have no tolerance for any attempts to forcefully occupy government buildings," Rosen said. "There will be no excuse for violence, vandalism or any other form of lawlessness."
Rosen also called on the public to share any information they have about threats and said the department fully supports the exercise of constitutional rights.
U.S. prosecutors are ramping up the investigation into last week's riot at the Capitol, with more than 170 suspects under scrutiny and law enforcement officials planning charges of sedition and conspiracy.
"We're looking at significant felony cases tied to sedition and conspiracy," Michael Sherwin, acting U.S. attorney for the District of Columbia, told reporters on Tuesday. "We're going to focus on the most significant charges as a deterrent."