Does Dublin Have a Secret Brexit Plan? Nerves Are Starting to Fray
(Bloomberg) -- In Dublin, nerves are beginning to fray as doubts around the final Brexit outcome grow.
All political parties back the government's backstop strategy to avoid the return of checkpoints along the border with Northern Ireland, which will form the European Union's new land frontier with the U.K. after it exits the bloc. The question is, what happens if there's no deal and the backstop dies?
The government insists there's no planning going on to reinstall customs posts and patrols along 310-mile (500-kilometer) frontier. But, Transport Minister Shane Ross this week let slip that checks were likely to return in the event of a no-deal Brexit. In a private rebuke caught on tape, Foreign Minister Simon Coveney told him "we can't get into that," as people might start to "delve" into the question more.
"Yeah, but I didn't know what to say," a chastened Ross responded.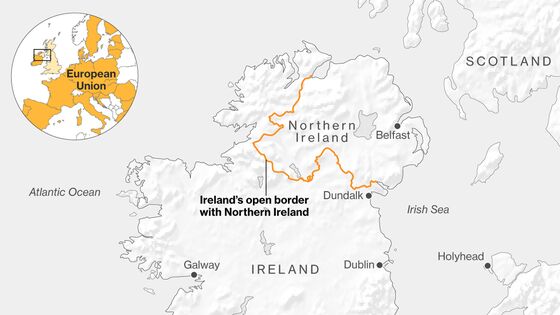 Opposition leader Micheal Martin scoffed at the exchange in Parliament on Wednesday, saying "it's like the episode from Fawlty Towers: 'whatever you do, don't mention the war'." Ross's remarks suggest the government has a secret plan to reintroduce border checks, Martin told Irish Prime Minister Leo Varadkar.
It's a counterpoint to the idea that Ireland must have a mysterious blueprint to avoid checks, given its refusal to make a plan. However, it can't talk about it because the case for the backstop would be weakened, the theory goes.
So, what's the reality? Insiders say, yes, at one point, Varadkar had simply considered the option of simply refusing to police the border. That's now been dropped.
Instead, Coveney offered a clue to a potential strategy as he sought to quickly cut Ross off. The government would have "difficult talks'' with the EU and U.K. about the border and the single market in a no-deal scenario, he said.
That may involve Ireland arguing that the EU has clearly recognized in the Brexit talks the importance of avoiding a return of a hard border. So, help us do that somehow. Given EU officials have long privately said checks will have to come back in a no-deal scenario, that's a big ask.
The best way to avoid the question is a deal, said one EU official.
"If that fails, the alternative is a different challenge," the official said.