Despite Kim's Threat to Trump, North Korea's Options Are Limited
(Bloomberg) -- Kim Jong Un raised eyebrows with his veiled threat to take a "new path" toward the U.S. if President Donald Trump didn't agree to relax sanctions. The phrasing may betray how few options he has.
The warning in Kim's New Year's address Tuesday was far tamer than past North Korean efforts at saber-rattling, such as his reference last year to the "nuclear button" on his desk. Analysts said Kim had three basic choices: resuming weapons tests, turning to China or walking away from talks with the U.S. All of them present risks.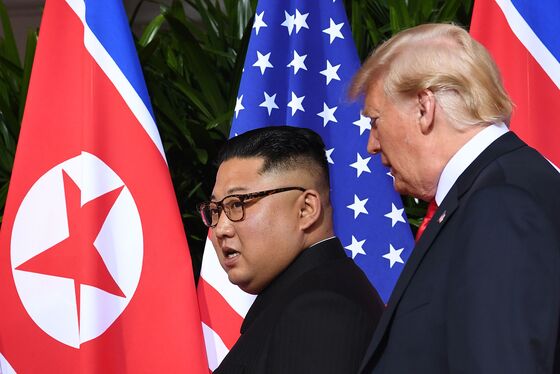 Here's a quick look at his possible paths:
The most obvious option -- restarting tests of nuclear bombs and missiles -- has the most potential downsides for Kim. Provocations would only justify the sanctions that he wants to lift and undercut propaganda efforts to cast himself as a leader who can be trusted with nuclear weapons. It could also bring new U.S. threats of military action.
That's why the threat was conditional, said Go Myong-Hyun, a research fellow at the Asan Institute for Policy Studies. "What North Korea is saying is that if the sanctions continue endlessly and if the United States does not listen to what North Korea wants, we will choose the path of creating tensions," Go said.
It was also notable that Kim didn't threaten to reverse his April decision to prioritize economic development over building nuclear might. A state-run North Korean research agency was much more direct when issuing a similar sanctions ultimatum in November.
Cheong Seong-chang, vice president of research planning at the Sejong Institute in South Korea, said Kim's tone suggested that he thought that was "the worse-case scenario." "It reflects frustration within North Korea that the United States still has not answered" Kim's offer in September to close a key fissile-material-production facility, Cheong said.
Given the costs of new provocations, some saw Kim as signaling that he has alternatives to the U.S. -- namely China. A clue may have been in Kim's remark that his "new path" would help "establish peace and stability on the Korean Peninsula," rather than bring conflict.
"The not unfounded hope of Kim Jong Un is that in such a strategic setting, China would be willing to provide protection and economic support while abstaining from too massive direct interference," Ruediger Frank, a professor of East Asian economy and society at the University of Vienna, wrote on the 38 North website. "Forcing the U.S. out of Korea, and out of East Asia, is more important to Beijing than reigning in on a self-confident or even provocative North Korea."
Kim may sense greater support in Beijing for renewing their old alliance, as the U.S.-China trade war fuels talk of a new Cold War, Frank said. During his address, Kim touted his breakthrough meetings with Chinese President Xi Jinping last year and called for boosting "traditional ties of friendship and cooperation among the socialist countries."
Still, such a path risked bringing North Korea under greater control of its larger and wealthier neighbor -- something the regime has fought to avoid over the past six decades.
Lastly, Kim could just walk away from talks with the U.S. He's effectively done that on the working-level already, although he has reaffirmed his willingness to meet Trump "any time."
Soo Kim, a former Korea analyst at Central Intelligence Agency, said Kim chose his words to cast the U.S. as the unreasonable party should he decide to walk away from negotiations. Then he can resume the diplomatic deep-freeze with the U.S. that existed before Kim first moved to open talks a year ago.
"The new path is essentially not much different from the old path," she said. That may because he has no other alternatives.
On Wednesday, Trump confirmed reports that he had received a "great letter" from Kim. He said that he had a good relationship with the North Korea leader, but was "not in any rush" to hold a second summit.
Kim's continued hopes for his personal diplomacy with Trump were apparent in the conditional language he used, saying he "might be" forced to "explore" a new path. And his remarks about the U.S. were unusually positive for a North Korean speech.
"That's not really a threat," Robert Carlin, a non-resident fellow at the Stimson Center, told reporters after the speech. "It's a soft formulation, very deliberately, because Kim did not want to overshadow all the positive things that he said."