Kudlow Says Trump Respects Fed Independence Despite Criticism
(Bloomberg) -- Larry Kudlow says President Donald Trump is concerned higher interest rates might derail the U.S. economy, but wasn't trying to interfere with Federal Reserve independence when he criticized monetary policy as "crazy."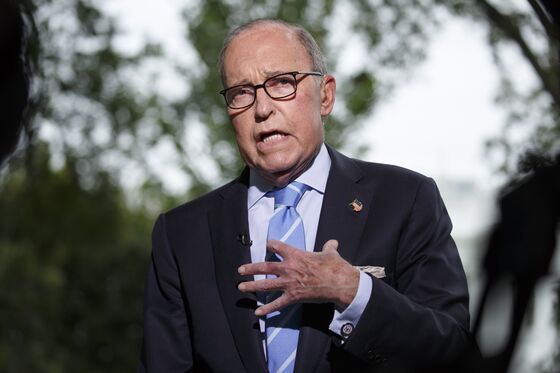 "The president, as a successful businessman and investor, knows a lot about these topics and he's giving his opinion," the White House economic director said on "Fox News Sunday." "His concern is the Fed might move too quickly, and might choke off the recovery."
The president took a shot at the central bank on Wednesday, saying, the Fed was "going loco" with with interest-rate increases. He doubled down on Thursday, blaming the nation's "out of control" central bank for a sixth straight day of losses that wiped out much of the year's gains in the U.S. stock market.
The Fed has raised rates six times since Trump's inauguration in response to low unemployment and more rapid economic growth, but it has proceeded more cautiously than in past economic expansions.
Trump's remarks, which ratcheted up the severity of complaints he started making about the Fed in August, sparked fresh complaints that the central bank's independence is under threat. Kudlow denied that.
"He never said to the Fed, 'I want you to change this or to change that,'" Kudlow said. "He respects the Fed's independence."
Asked on ABC's "This Week" whether he thought Fed policy was out of control, Kudlow said he personally doesn't, and that Trump isn't trying to influence policy.
"He is not telling them or mandating them to change their strategy, he's not telling them to change their policy," Kudlow said. "He's just raising a very important issue."
Fed Chairman Jerome Powell was picked by Trump to lead the central bank after the president opted not to extend the tenure of Janet Yellen.