Top Democrat Expects Border Deal, But Trump Remains the Wild Card
(Bloomberg) -- The top Democrat working on a border-security deal to avoid another government shutdown said lawmakers should be able to reach a bipartisan agreement by the end of this week, even with President Donald Trump repeating his demand for a wall.
"I expect to meet the Friday deadline," Representative Nita Lowey of New York, chairwoman of the House Appropriations Committee, said Wednesday.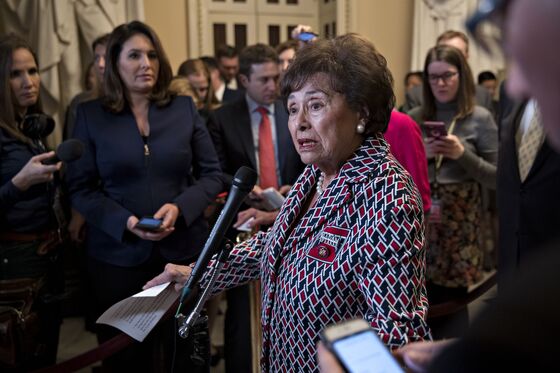 House Speaker Nancy Pelosi had said an agreement would need to be reached by then to ensure legislation is passed by Feb. 15, when stopgap government funding expires. Lawmakers and Trump agreed to the temporary measure after a 35-day partial government shutdown resulting from a partisan impasse over wall funding.
Republicans offered mixed views on whether a deal can be done by Friday. Senate Appropriations Chairman Richard Shelby of Alabama said he hopes to wrap up negotiations by the end of the week. But Kay Granger of Texas, the top Republican on House Appropriations, said negotiations may go past Friday but be completed in time to avert a shutdown.
The wild card remains Trump, who again demanded money for a wall on the U.S.-Mexico border in Tuesday's State of the Union speech. If he doesn't agree to a deal reached by bipartisan negotiators, the GOP-led Senate is unlikely to go along with it.
Trump has threatened another shutdown if a new spending bill doesn't fund "a new physical barrier, or wall" along the border. Democrats have rejected building a wall, though Lowey said that additional fencing is part of the talks. It's not clear whether that would satisfy Trump.
Members of a House-Senate conference committee, meeting behind closed doors Wednesday, are focused on how much to spend on border security and fencing or other barriers, said Dick Durbin of Illinois, the No. 2 Senate Democrat.
During their meeting, lawmakers heard from Border Patrol and customs officials who sought to justify spending the $5.7 billion demanded by Trump on a border wall, Durbin said. They acknowledged most drugs illegally coming to the U.S. arrive through ports of entry, he said.
Durbin said that Democrats don't rule out having some added barrier, but said the focus should be on technology to assist in drug interdiction.
Representative Henry Cuellar, a Texas Democrat and the only negotiator from a border district, said both sides might find common ground by focusing on the goal of 700 miles of fencing set by federal law under President George W. Bush. Only 13 miles are left that don't have some type of fencing or barrier, he said.
Cuellar also suggested other approaches such as replacing some of the 300 miles of existing vehicle barriers with stronger fencing.
Shelby said, "We are hopeful. The tone is good between the various conferees."
Pelosi said Wednesday that she talked to Vice President Mike Pence and urged him to keep the White House out of the talks. She said there has to be a trade-off between money for barriers and other areas of homeland security.
The House and Senate lawmakers doing the negotiating can get an agreement if "left to their own devices," she said, adding that she'll support whatever the group comes up with.
Trump has mused for weeks about invoking emergency authority to build the wall, potentially by shifting Defense Department or disaster aid spending, if lawmakers don't agree to fund the project. But the president has gotten increasing pushback from other members of his party.
Under a 1976 law, Trump can declare a national emergency if he specifies the reason to Congress. But any lawmaker could demand a vote on overturning the president's decision, setting up a test of the president's power and his pull within the GOP. If Congress disapproves, though, the president has the ability to veto such a resolution.
House Budget Chairman John Yarmuth, who isn't one of the border security negotiators, said Wednesday he's among a bipartisan group of lawmakers invited by acting White House Chief of Staff Mick Mulvaney to spend the weekend with him at Camp David.
"I've been asked, and I think I am going," said Yarmuth, a Kentucky Democrat. He said he believes the weekend will involve talks that go beyond the negotiations over wall funding, to more general budget issues and other topics.
Lowey said, "Are you kidding me?" when asked whether she was going to the retreat. "Mick Mulvaney would never invite me to a retreat," she said.