Democrats Plan Anti-Semitism Measure After Omar Remarks
(Bloomberg) -- House leaders are planning a vote as soon as Wednesday on a resolution to condemn anti-Semitism, a senior Democratic aide said, after a series of controversies involving remarks made by first-term Representative Ilhan Omar of Minnesota.
The resolution was being worked on over the weekend by staff for Speaker Nancy Pelosi, Majority Leader Steny Hoyer and Representatives Eliot Engel of New York, Jerrold Nadler of New York, and Ted Deutch of Florida, the aide said. Nadler, however, hasn't taken part in writing the resolution and hasn't currently signed on to it, one of his aides said.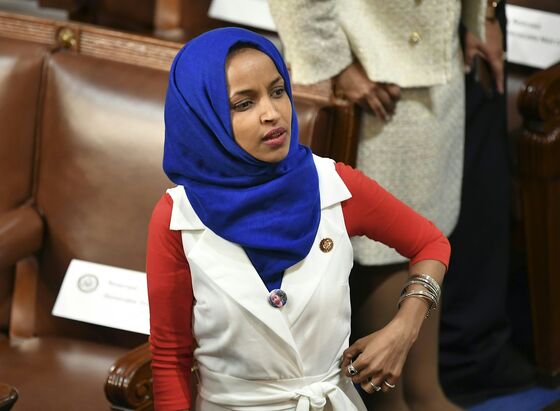 The text of the resolution isn't settled, the aide said, and it's unclear whether it will mention Omar specifically. A second Democratic aide said no final decisions have been made.
The Minneapolis-area Democrat, one of two Muslim women elected to Congress in November, has faced numerous accusations of using anti-Semitic rhetoric, most recently after she reportedly took aim at "the political influence in this country that says it is OK for people to push for allegiance to a foreign country," referring to Israel.
Omar has been sparring on Twitter with both Republicans and fellow Democrats, including Representative Nita Lowey of New York, over her remarks about Israel's government, led by Prime Minister Benjamin Netanyahu.
Although there's been a push by some in the Democratic Party's left wing to change U.S. policy toward Israel, many Democrats and Republicans have criticized Omar for repeating anti-Semitic tropes in some of her statements. She recently apologized for a tweet that critics said furthered stereotypes about Jews and money.
"It's unacceptable and deeply offensive to call into question the loyalty of fellow American citizens because of their political views, including support for the U.S.-Israel relationship," Engel, who chairs the House Foreign Relations Committee and is Jewish, said recently. "This episode is especially disappointing following so closely on another instance of Ms. Omar seeming to invoke an anti-Semitic stereotype."
Both parties have been hit by allegations of using charged rhetoric. House Minority Leader Kevin McCarthy, a California Republican, deleted a tweet last fall after he was accused of anti-Semitism for singling out three Jewish Democratic donors as trying to "BUY this election." Representative Jim Jordan of Ohio was accused of anti-Semitism by Nadler for a tweet saying Nadler was supporting Democratic donor and activist "Tom $teyer's conclusion" on impeaching President Donald Trump.
In another recent instance of a representative's words drawing rebuke, the House voted in January for a resolution that said it "rejects white nationalism and white supremacy as hateful expressions of intolerance," in response to remarks made by Iowa Republican Steve King. That resolution didn't name King, but his fellow Republicans stripped him of committee assignments.