Democrats Plan New Scrutiny of Trump Puerto Rico Storm Response
(Bloomberg) -- The Trump Administration's response to Hurricane Maria is likely to come under fresh scrutiny with newly empowered House Democrats pledging to investigate the Federal Emergency Management Agency's actions related to the storm that killed thousands in Puerto Rico.
"We are going to be looking at FEMA, specifically the response to the hurricane in Puerto Rico, but also the FEMA response more broadly," Steny Hoyer, the second-ranking Democrat in the House, said in an interview Oct. 29. Hoyer cited FEMA's actions as one of his party's top two or three oversight priorities.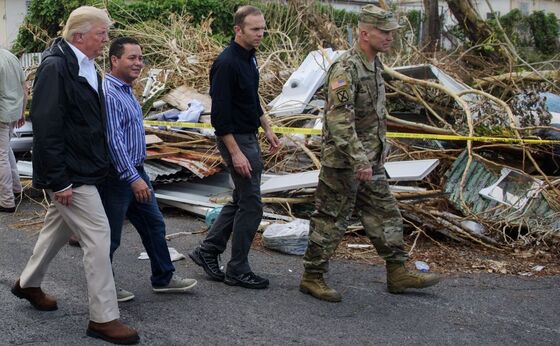 Hurricane Maria left most of Puerto Rico without electricity for months, and caused an estimated 2,975 deaths. In a statement, FEMA said it "will continue to work closely with Congress in its oversight capacity of federal disaster response and recovery efforts."
The storm has been a recurring political irritant for Trump.
A few days after the storm struck the island as a Category 4 hurricane, Trump visited San Juan, throwing rolls of paper towels toward a crowd gathered at a church. He later attacked San Juan Mayor Carmen Yulin Cruz for criticizing the government's response, dismissing her "poor leadership ability" and calling his critics "politically motivated ingrates."
In internal documents, communications staff at the Department of Defense expressed concern about the president's "dialogue" with the mayor, with "many criticizing his lack of empathy." Still, FEMA Administrator Brock Long took Trump's side, blaming "elected officials at the local level" for slowing down the response. A year later, Trump again attacked Cruz, referring to her as the "totally incompetent mayor of San Juan."
Trump likewise dismissed the estimated death count, commissioned by the governor of Puerto Rico and conducted by researchers at George Washington University, as false and politically motivated. "This was done by the Democrats in order to make me look as bad as possible," Trump wrote on Twitter this fall. "I think we did a fantastic job in Puerto Rico," he told reporters.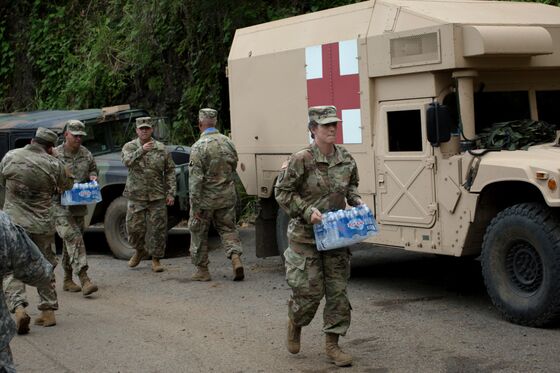 Many of the concerns raised by those critics proved to be prescient. It took 11 months for the island's power grid to be fully restored; as many as 200,000 of Puerto Rico's 3.3 million residents moved to the U.S. mainland. This September, the nonpartisan U.S. Government Accountability Office reported that FEMA was "not prepared to respond" to a hurricane of that scale striking Puerto Rico.
House Democrats have pushed for more information about FEMA's response. Some of those same Democrats are now in line to lead committees, and say they will use their new authority to keep investigating what went wrong.
Congressman Bennie Thompson of Mississippi, who as the ranking Democrat on the House Committee on Homeland Security is in line to become chairman in January, has called for greater oversight of how FEMA awards contract dollars. In June, he introduced a bill to create what he called a "9/11-style" independent commission to investigate the government's response to Maria.
In July, after FEMA released a report on its response to Maria, Thompson said the agency still had not explained "how or why Puerto Rico was clearly treated differently than the states that faced natural disasters last year." After Trump dismissed the estimated death count, Thompson called on Congress to conduct "a comprehensive investigation -- as we did after Katrina -- into how 2,975 were allowed to die."
"We have seen little evidence that FEMA has learned from its past errors in Puerto Rico," Thompson said in a statement the day before the midterms. "It is high time that Congress does the rigorous oversight the Republicans have failed to do."
Another prominent House Democratic critic of FEMA has been Elijah Cummings, the senior Democrat on the House Committee on Oversight and Government Reform. In February, Cummings asked Trey Gowdy, the Republican committee chairman, to subpoena documents from FEMA related to a contract for emergency meals to hurricane survivors in Puerto Rico.
Gowdy never issued the subpoena.
Last month, when Republicans on the committee released a report on FEMA's response to the hurricane, Cummings criticized the report for having "no discussion whatsoever of the role of President Trump or White House officials in mobilizing or managing the response to the hurricane."
"Chairman Gowdy walled off the White House from any congressional scrutiny, so we still do not know what went wrong," Cummings said in a statement Monday. "My goal is to seek transparency and accountability to ensure that the same mistakes are not repeated in the future."
In Puerto Rico, some welcomed Democrats' promise to dig into FEMA's actions after Hurricane Maria.
"What happened in Puerto Rico was unprecedented. We weren't treated equally," Isabel Perez, an unemployed 36-year-old from Guaynabo, said in an interview Tuesday. "I think they should ask for an investigation."
Others asked what good it would do.
"With regards to the federal response in Maria, I think we should turn the page," said Christian Rodriguez, a student in business administration at the Universidad Interamericana. "It wasn't good, but at this stage there's little value in an investigation. The important thing now is that they help rebuild."